Councils unveil new visitor interpretation boards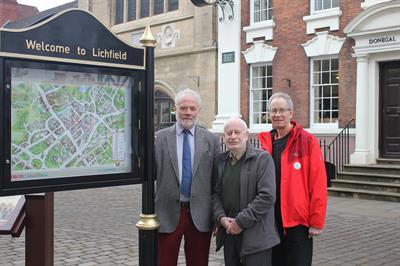 Lichfield District and Lichfield City councils have joined forces to install eight new interpretation boards across Lichfield city centre.
Visitors to Lichfield city centre will find it easier to make their way to all the attractions thanks to a new city map that is being displayed on a number of boards at strategic points across the city. The map is illustrated and so, while it is not a detailed street map, it does gives a good overview of the city.
Five of the boards also have interpretation panels displayed on the other side to give visitors a chance to find out more about the history and its famous historical characters, a brief history of Lichfield, and an overview of some of the top things to see and do on a visit.
The interpretation boards have been provided in partnership between the city and district councils. Lichfield City Council has funded the display cases, while Lichfield District Council has produced the map and interpretation boards. Lichfield District Tourism Association also contributed funding towards the project.
Councillor Ian Pritchard, Cabinet Member responsible for Tourism at Lichfield District Council, said:
"I am pleased to see the new information panels and map in place. They look very smart and really complement the city centre. The map will prove a useful guide to visitors to the city and the information boards offer a glimpse of Lichfield's rich and varied history, and encourage visitors to see the sights and make the most of their trip."
Councillor David Dundas, representing Lichfield City Council, said:
"This new signage is a good example of how the city and district councils can work together to provide improvements to our city. This is the first project to be funded by the city council's Community Infrastructure Levy (CIL) receipts, and I look forward to many more successful CIL projects in the future."
The next phase in the joint project is to get new interpretation boards installed at Lichfield and Trent Valley railway stations.