New council welcomed and roles appointed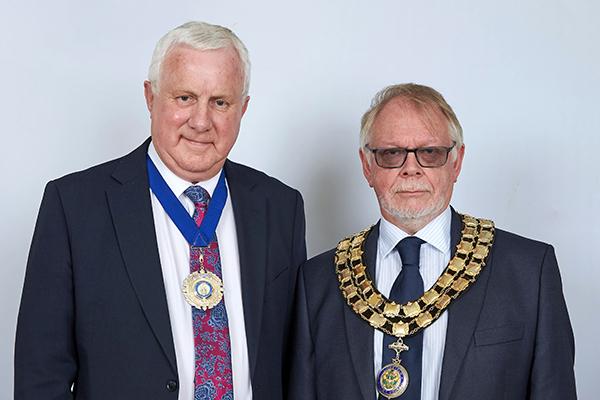 Following May's district elections, the first meeting of the new-look Lichfield District Council took place on Tuesday 21 May 2019, where the new leader, cabinet, chairman and committee roles were appointed.
At the annual council meeting on 21 May all 47 councillors were formally welcomed into office and the Leader of the council, Cllr Doug Pullen, and his chosen cabinet were appointed.
Councillor Iain Eadie will take up the role of Deputy Leader and Cabinet Member for Investment, Economic Growth & Tourism.
Councillor Liz Little is the new Cabinet Member for Recycling & Leisure and Councillor Ashley Yeates is the new Cabinet Member for Communities & Housing.
Councillor Rob Strachan has been appointed Cabinet Member for Finance & Procurement, while Councillor Angela Lax is the new Cabinet Member for Legal & Regulatory Services, and Councillor Andy Smith is Cabinet Member for Customer Services & Innovation.
Cllr Doug Pullen, Leader of Lichfield District Council, said:
"I am grateful for the confidence shown in me and I look forward to working with my cabinet colleagues and members from across the whole council. We have a lot to do, and I am excited by the challenges ahead."
Diane Tilley, Chief Executive of Lichfield District Council, added:
"I would like to extend a warm welcome to all our councillors. On behalf of all the officers, we look forward to working with you over the coming years."
The annual council meeting also saw Councillor Joe Powell sworn in as the new chairman and Councillor Derick Cross sworn in as vice chairman.
As the chairman Councillor Powell will represent the council at events across the district and region, including any royal visits, community events and charity functions. He will also chair council meetings and work throughout the year to raise money for Lichfield Foodbank.
Cllr Joe Powell, Chairman of Lichfield District Council, said:
"I am looking forward to a busy but rewarding year in my role as chairman and will do my best to represent the district. It is a great honour and the second time that I will be taking on this important role."
Positions and membership of committees were also announced at annual council. Full committee membership can be found at www.lichfielddc.gov.uk/committees.