New tour guides for the city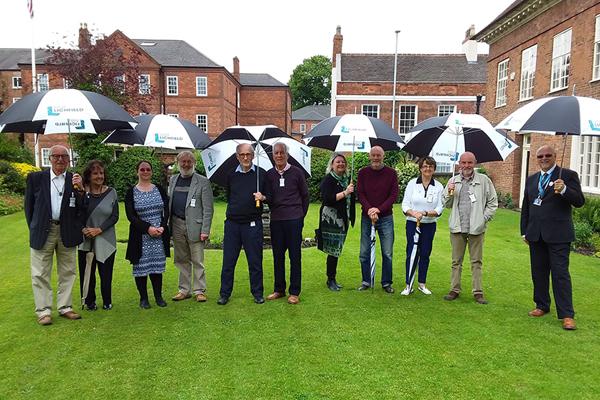 Ten local history enthusiasts have qualified as guides and will be leading new city tours.
Visit Lichfield held a presentation in the historic council chamber on Thursday 13 June, presenting the newly qualified city guides with their certificates, a Visit Lichfield umbrella and Visit Lichfield badge.
This comes after all ten of the guides successfully completed their training and qualified as city tour guides.
The guides will start leading groups on tours of the historic city of Lichfield, offering fascinating tours on a range of themes, including the Civil War, local historic figures, ghost walks and more.
Councillor Iain Eadie, Cabinet Member responsible for Tourism, said:
"I am delighted to welcome all ten new guides to their roles. It is fantastic to see Lichfield history come alive for all ages in this way.

"Our guides will be able to share our 'Hideous History' on the tour aimed at children, help people learn about our 'Georgian Gems' around the cathedral, amongst other tours, not to mention our own 'Ghosts of Lichfield'.

"I am sure these guided tours will be hugely popular not only with visitors but also with anyone who lives locally and might not know these stories. I would encourage everyone to share the details with friends and family and to get themselves booked onto a tour, as these promise to be great fun led by a fantastic team of people."
The presentation event also included a talk on the history of the council chamber by Green Badge guide, Julie Dewhurst. She said:
"The council chamber is an aptly historic place for the occasion. The building was formerly the third Lichfield Grammar School for boys to occupy this site, until the school, established in 1495, relocated further along St John Street. Elias Ashmole, Samuel Johnson and David Garrick all attended the second school, and went on to achieve great fame.

"The school was eventually bought by the then Lichfield Rural District Council, which held its first meeting in the converted school room in 1920. Next year marks the council chamber's centenary – and some 525 years of its history."
To find out more about Visit Lichfield guided tours, go to www.visitlichfield.co.uk/tours or head into Tourist Information desk St Mary's on the Market Square.