Council invests £300,000 in local infrastructure projects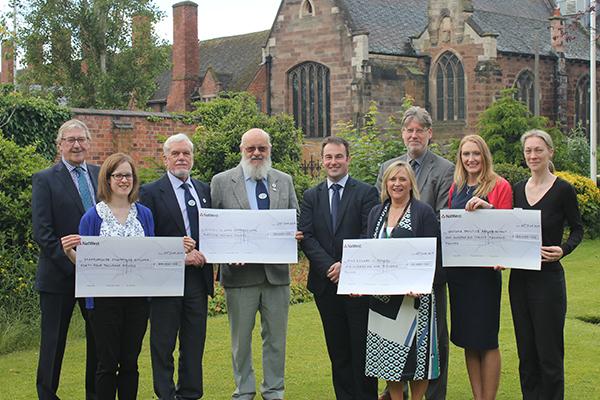 Four projects are set to receive a share of £300,000 Community Infrastructure Levy funding.
On Thursday 20 June, Lichfield District Council invited the recipients of the funding to District Council House to award them with their cheques for the projects.
The successful applicants include Staffordshire County Council, The Westgate Practice and Lichfield & Hatherton Canal Restoration Trust.
The council secured the funding through the Community Infrastructure Levy, which is a charge on development to help local authorities deliver infrastructure to support the development of their area.
Of the 22 applications received, four of the projects met the council's criteria, which includes meeting a specific local need and providing significant public benefit, as well as being deliverable and offering value for money. The applicants also needed to show how their projects would be match funded.
Staffordshire County Council successfully applied for two projects and will receive £101,000 to provide more secondary school places at King Edward VI School, and £44,000 to make improvements to Chasewater Country Park.
The Westgate Practice has been awarded £120,000 to extend its Greenhill Health Centre in Lichfield, to add extra clinical rooms and improve its facilities.
Finally, Lichfield & Hatherton Canal Restoration Trust will receive £35,000 for the reinstatement of the canal between London Road and Cricket Lane in Lichfield.
Councillor Iain Eadie, Cabinet Member for Investment, Economic Growth & Tourism, said:
"I was delighted to meet the recipients of our first round of Community Infrastructure Levy funding. All the projects are very different and will have a big impact on the local community. There will be more opportunities to apply for funding and we look forward to supporting even more local infrastructure projects in the future."
This is the first round of the Community Infrastructure Levy funding to be distributed, with more rounds to follow.