Lichfield Proms 2019 sponsors launch 21st proms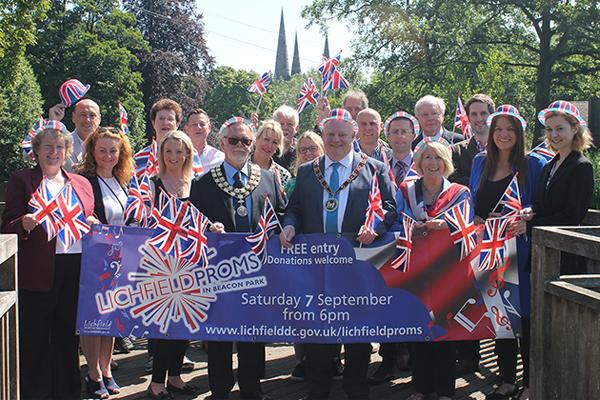 The sponsors of this year's Lichfield Proms congregated at Beacon Park on 27 June to officially launch the end of summer event.
2019's Lichfield Proms is on Saturday 7 September, when thousands of people will gather in Beacon Park for a spectacular evening of entertainment.
Set to feature The British Police Symphony Orchestra, the City of Lichfield Concert Band, children's entertainment and a fireworks finale, it is the night to end the summer in style.
Lichfield District Council organises the free outdoor concert every year, and is keen to thank all its sponsors and supporters for their contribution.
Councillor Liz Little, Cabinet Member for Recycling & Leisure, said:
"Lichfield Proms is such a fantastic way to come together as a community and share a night of music, the beautiful surroundings of Beacon Park, picnics, flag waving and the firework finale. It is one of the highlights of the events calendar and is attended by thousands of people.

"We couldn't stage Lichfield Proms without the support of local companies, organisations and individuals who sponsor it or support it with a grant. I would like to say a huge thank you to all of you – we are very grateful for your help."
2019's Lichfield Proms sponsors are: BHB Architects, A Plan Insurance, Allen Brown Jewellery, Strongs Plastic Products, Wilcox Refinishers, Prizm Solutions, Friel Homes, Premier Group, Rotary Club of Lichfield St Chad, Beacon Street Garage, Blue Print Designs, The Best of Lichfield, Keelys Solicitors, Secret Garden, Grosvenor Shutters and C Residential.
Lichfield Business Improvement District, Lichfield City Council and Swinfen Broun Charitable Trust are supporting Lichfield Proms through grant funding.
"It's not too late to sponsor the event, so if you are a small business and would like to support this huge community event, please get in touch with the team," added Cllr Little.
To find out about sponsorship packages, email our Proms team or call George Beesley on 01543 308029.
To find out more about Lichfield Proms in Beacon Park, including how to book prime seating at tables in front of the stage, visit the Lichfield Proms in Beacon Park website.