Council urges residents to waste less plastic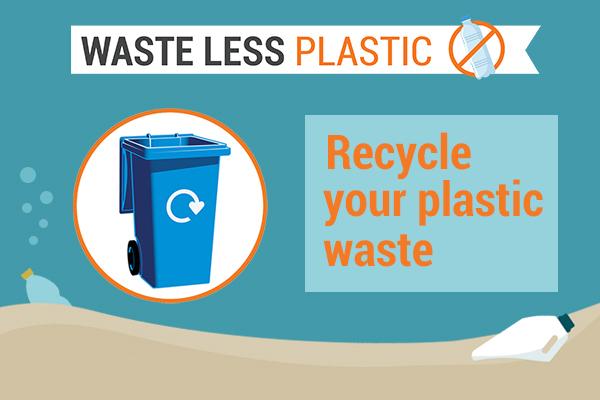 Through the Joint Waste Service with Tamworth, Lichfield District Council is launching a campaign this September to encourage residents to reduce their reliance on single-use plastics.
With the increasing awareness of the harm it is doing to the environment, Lichfield District Council has put together a Waste Less Plastic campaign, which aims to highlight the issue of plastic pollution and how to avoid plastic packaging and throwaway items.
As part of this the council has produced a poster that features nine top tips about how to avoid using single use plastics.
From always having a reusable water bottle and shopping bag to hand, to bringing your own coffee cup and packed lunch with you, the tips offer simple ways to cut down on plastic packaging.
Other tips include refusing plastic straws, using a cloth instead of wipes that have plastic in them, choosing loose fruit and vegetables and opting for glass containers rather than plastic bottles. The ninth tip is to recycle all appropriate plastics in your blue bin.
The tips will be tweeted from the council's Twitter feed @Lichfield_DC and will be posted on its Facebook page @lichfielddc.
Councillor Liz Little, Lichfield District Council's Cabinet Member for Recycling & Leisure, said:
"Plastic pollution is having an impact on our waters and marine life, as well as the food chain and public health.

"We know it is an issue that many of our residents are really worried about, which is why we're suggesting a number of ways we can all avoid single-use plastic items.

"Our tips offer simple swaps that if enough people do them will really cut down the waste we produce. However, they are just the start and there are many more ways to reduce plastic waste, and we're hoping lots of people will share their own top tips with us through our Twitter and Facebook accounts.

"This is the first phase of our Waste Less Plastic campaign, and we hope to work with local businesses to look at ways to reduce the amount of plastic produced across the district."
Download the Waste Less Plastic poster, which can be displayed at community halls, shops and local venues, and find more top tips on our Waste Less page.
Waste Less Plastic top tips:
Bring a water bottle
Bring your own bag
Bring your own coffee cup
Bring a packed lunch
Use a cloth not a wipe
Say no to plastic straws
Choose loose fruit and vegetables
Choose glass packaging
Recycle your plastic waste