Lichfield Memory Café cheque presentation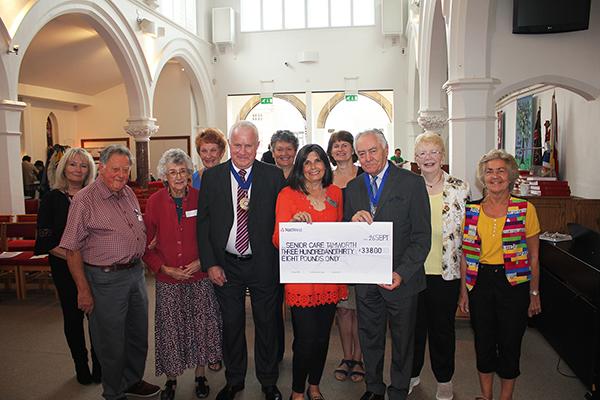 Lichfield District Council's former Chairman has presented a cheque to Lichfield Memory Café.
In his year as Chairman for Lichfield District Council, Bob Awty helped to raise £338 for Lichfield Memory Café.
Lichfield Memory Cafe runs from Lichfield Methodist Church every Thursday from 10am to 12noon. It offers a friendly environment where people living with dementia and their carers can meet in a supportive and friendly environment.
The former chairman was on hand during a Memory Café session on Thursday 26 September to present the £338 cheque.
Bob Awty, Chairman of Lichfield District Council from May 2018 to May 2019, said:
"I chose Lichfield Memory Café as my charity because it is such an important resource for local people and I know how much it is valued by everyone who attends.

"I am so pleased that the money will go towards helping to give people with dementia support in a caring environment. I would like to thank everyone who donated to the chairman's charity and everyone who supported me during my year in office."
Karen Hurmson, Memory Café Coordinator for Lichfield Memory Café, said:
"Lichfield Memory Café offers a lifeline to people with living with dementia as well as their friends and family. By talking and finding out how others deal with the impact of the disease, it helps to better manage their own situation.

"This is why we're so grateful to the former chairman for choosing the Memory Café as his charity and helping to raise awareness of it.

"The cheque will go towards four trips out for our Memory Café members, including a trip to the Lichfield Garrick theatre and the National Memorial Arboretum."
The day also saw the Memory Café celebrate BBC Music Day, which the Vice Chairman of Lichfield District Council, Councillor Derick Cross, was also invited to attend. It included a performance by Alison and Ian Room playing songs from across the era.
BBC Music Day's Music and Dementia initiative highlights the impact music can have on those living with dementia across more than 800 events.
Lichfield Memory Café It is supported by Home Instead Senior Care in partnership with Churches Together. It is also supported by The Alzheimer's Society and The Memory Services Team on a bi monthly basis. For more information please call Home Instead on 01543 625 002.