New home for tourist information service and Reading Girl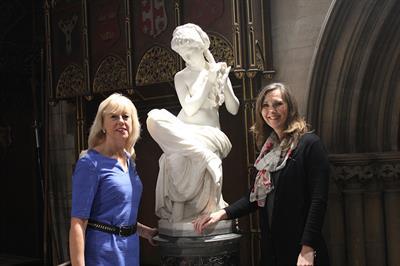 Lichfield District Council's tourist information service is welcoming visitors to St Mary's in Lichfield.
One month after moving back into the newly refurbished St Mary's on Lichfield's Market Square, the tourist information team is settling into their new home well.
Visitors to the new Lichfield Library will find the Visit Lichfield team next to library staff on the front desk, offering advice and directions, information about accommodation and district attractions, and what's on in the area.
The team also books National Express tickets, guided walks and city tours, as well as tickets for local events and concerts.
Aileen Beesley, from Visit Lichfield, said:
"It's great to be a part of this beautiful building, right in the heart of the city centre. The library is really popular and we're enjoying helping visitors in this wonderful setting."
Another important new arrival has been welcomed to St Mary's: the newly cleaned Reading Girl statue. The sculpture, which is owned by Lichfield District Council and is by the Italian artist Antonio Rossetti, has been an important symbol for Lichfield Library over the years. Following a clean, the white marble statue, which dates back to 1883, has been placed in the new library for all to enjoy.
Cllr Ian Pritchard, Cabinet Member responsible for tourism, said:
"We know how much library visitors love the Reading Girl, so we are delighted that it can be part of the new library and that it has been transformed to its former glory. St Mary's is an incredible building with wonderful treasures, which the Reading Girl is a big part of."
Tourist information is available at St Mary's in Lichfield from Monday to Saturday, between 9.30am and 4pm. To find out more about Visit Lichfield, go to www.visitlichfield.co.uk.