Ghost walks and trick or treating for families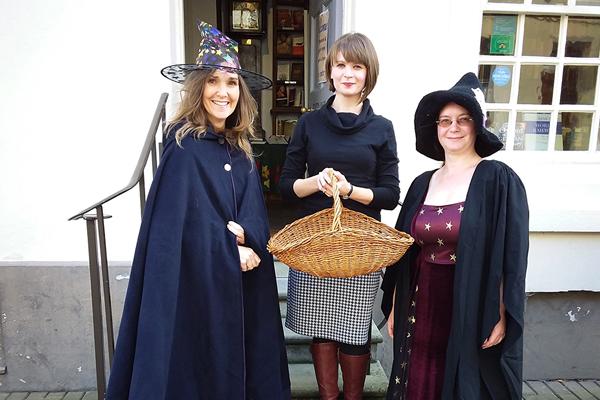 Visit Lichfield is running a series of two different but equally spooky ghost tours this autumn that are guaranteed to send shivers down your spine!
Gruesome and Ghostly tours are back for 2019. The series of ghost walks around the historical city centre take in the Guildhall prison cells, the history of the Market Square burnings, the ghosts sighted at Dam Street, The Close and more city locations.
The tours are rounded off with a visit to a local pub for a warming drink and a light snack.
Councillor Iain Eadie, Lichfield District Council's Cabinet Member for Investment, Economic Growth & Tourism, said:
"If you haven't gone on one of our ghost walks yet, make sure you book one this autumn. Going on a tour is a fun way to learn more about the history of the city and have some stories to entertain your friends and family with when you pass local ghost haunts."
Gruesome and Ghostly tours are running on 22, 28, 30, 31 October and 21 November at 7pm and on 31 October at 8pm.
New for 2019 are the Trick or Treat Family Tours, where children and their families will hear ghost stories and knock on prearranged doors across the city centre for either a trick or treat.
The tours are aimed at 5 to 11 year olds who are accompanied by an adult. Everyone is encouraged to dress up and there will be a prize for the scariest children's costume. Refreshments will be served at Tourist Information in St Mary's after the tour.
"What a brilliant way to go trick or treating with your children this Halloween. The tour brings together treats, tricks and ghost stories, and I am sure they will be a hit with local families. We expect these tours to book up quickly, so reserve your tickets as soon as you can to avoid disappointment," added Cllr Eadie.
The Trick or Treat Family Tours are running on Wednesday 30 and Thursday 31 October at 4pm. Tickets cost £6 per person or £12 for two children and one adult.
All tours need to be booked in advance at the Tourist Information desk in St Mary's on the Market Square or by calling the team on 01543 308924. Find out more about Visit Lichfield tours.