CPCG tackles District Council House garden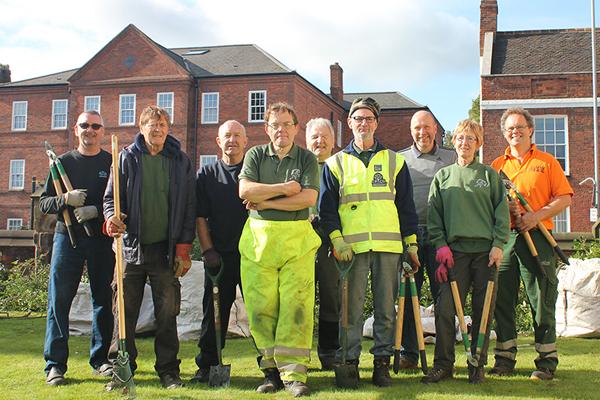 Nine volunteers have been working hard to restore an historic garden in Lichfield back to its former glory.
Lichfield District Council's Countryside and Parks Conservation Group work over the year to conserve and maintain local parks and green spaces.
On Wednesday 2 October 2019 nine volunteers spent a day in the autumn sunshine removing overgrown trees and shrubs from District Council House in Lichfield.
The group removed Pyracantha, Holly and Cotoneaster from the council garden, which had been blocking the view of the historic District Council House building from Upper St John Street.
When the ground is ready, the volunteers will be back to plant herbaceous plants, such as Hosta, Hellebore and Phlox. These cottage garden plants will allow the views of the council chamber to be maintained, as they will die back in winter and are in keeping with the historic location.
Councillor Liz Little, Cabinet Member responsible for Recycling & Leisure, said:
"A massive thank you to all our Countryside & Parks Conservation Group volunteers who dedicate their time and energy to helping us to maintain and improve our parks, gardens and open spaces.

"The work they've already done has transformed the District Council House garden. The view of the Council Chamber is no longer obscured by overgrown plants and trees, and I am looking forward to seeing the new flowerbeds when they come into bloom."
The Countryside and Parks Conservation Group is always on the look-out for new members to get involved with conservation work.
The group meets on the first and third Wednesday of the month, from 10am to 3pm. No skills are needed and volunteers are given full training, but must be over 18 years of age.
To find out more, please call 01543 308846.