Burntwood group transforms smallest park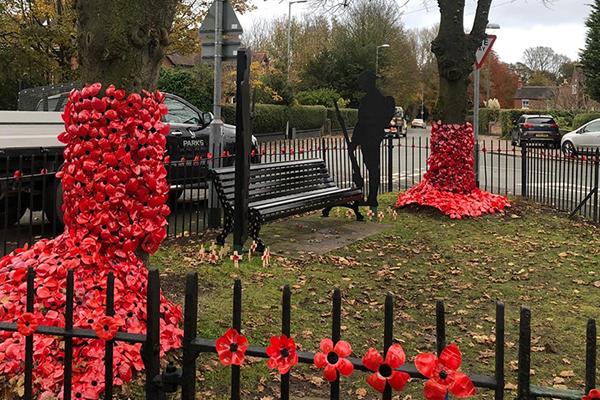 The Friends of Prince's Park, which is part of Burntwood Action Group, have created a stunning Armistice Day Memorial in Prince's Park at Burntwood Green.
A group of ten people with a keen interest in Prince's Park in Burntwood have formed the Friends of Prince's Park group.
In partnership with us, Burntwood Action Group and with support from a number of local businesses, the group has created a First World War memorial display and have started work to refurbish the park.
The display shows the silhouettes of two life-sized soldiers either side of a refurbished bench, along with 1,000 poppies made out of recycled plastic that cover the base of the small park's three trees and are dotted along the railings.
The two soldier figures were made from plywood and timber donated by G. E. Collis & Sons Ltd of Chasetown, and made by Barry Colbourne from a template supplied by Redwood Roofing.
Crown Cutting Ltd of Chasetown carried out a free ground inspection to ensure no essential services were beneath the area where the soldiers were secured with wooden posts.
Paint for the bench and railings was supplied by Tonks Brothers Tree Services and our parks team, which also removed, transported and refitted the heavy cast iron bench so it could be fully refurbished by members of the friends group.
Volunteers made 1,000 poppies out of old plastic bottles which they painted before being secured around the base of each of the trees and along the railings.
We have also produced a new sign for the park and is set to refurbish the iron railings, which will be completed once the weather improves.
Burntwood Action Group is sharing information about the project as it progresses on its Facebook page, and has added a donation button so followers can donate to the Royal British Legion. So far more than £150 has been raised.
Richard King, director of place & community said:
"This is a fantastic project showing what can be done when community members come together with a shared goal. The display is really moving and I am sure it is giving local people and visitors pause for thought this Remembrance Day."
Vic Chamberlain, chairman of Burntwood Action Group, commented:
"We are delighted with the help we have had from local businesses and Lichfield District Council. Many people from the community have taken the time to contact us and let us know how proud they are of the work that has been done to transform our little park.

"Going forward we would like to continue to make the park a focal point and we are seeking help to fund a metal flower bed trough, for which the district council has promised us a steady supply of seasonal plants to keep the UK's smallest park looking great.

"You can continue to follow the work that we're doing in the community through our Facebook page."
Prince's Park is off Farewell Lane in Burntwood. It was created to commemorate the marriage of Albert Edward, Prince of Wales and Princess Alexandra of Denmark in 1863.
It featured in the Guinness Book of Records as 'Britain's smallest park' and includes three commemorative trees.