Recycling efforts praised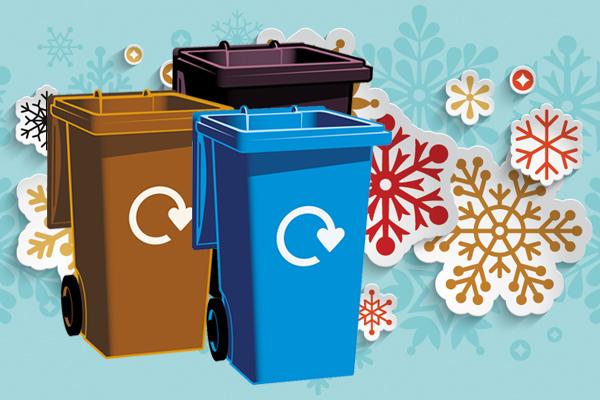 Lichfield District Council and Tamworth Borough Council are thanking people from across both areas for a marked improvement in their recycling habits this yuletide.
Through the Lichfield and Tamworth Joint Waste Service, Lichfield District Council and Tamworth Borough Council launched a campaign before Christmas to highlight how black bin bags and other articles can contaminate recycling loads, meaning the sorting plant rejects them.

As part of the campaign, the Joint Waste Service stuck stickers on blue bins to warn locals that their bins would not be emptied if black bin liners were used in them. They also launched a Waste Less guide to explain how to recycle and what to put in each colour bins.

The Joint Waste Service is pleased to announce that due to renewed efforts, no loads of recycling were rejected by the recycling sorting plant over the festive season.

Cllr David Leytham, Lichfield District Council's Cabinet Member for Operational Services, Leisure & Waste, said:
"Thank you to everyone for the massive improvement we have seen in the quality of the recycling that has been going into your blue bins since we reminded you not to use black bin liners and brought out our recycling guide.

"It has resulted in none of our truck-loads of recycling being rejected, which is great news, considering how much more we all recycle at this time of year.

"We hope our residents keep up the good work by continuing to use their blue bins for paper, card, cans, plastics and glass, and remembering that items such as food, nappies, animal bedding, polystyrene and general waste, should go in your black bins only."
The councils are also taking this opportunity to thank their residents for bearing with them over the Christmas and New Year's break, when some waste and recycling rounds were delayed due to staff illness.
"We're really sorry if we didn't manage to get to your bin on your allotted day over the festive break. Thank you for bearing with us as we know how inconvenient it is to have your bin missed, especially over Christmas," continued Cllr Leytham.
Missed bins can be reported at www.lichfielddc.gov.uk/reportit.