Council win ecology award for contribution to biodiversity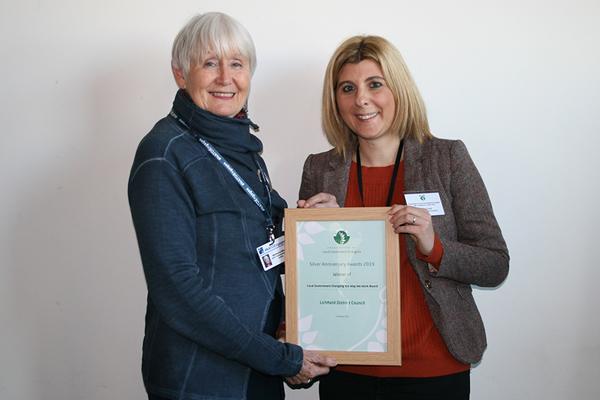 Lichfield District Council has won the Local Government Changing the Way We Work award for its biodiversity net gain model.
The Association of Local Government Ecologists has marked its 25 year anniversary with a series of awards that recognise contributions to furthering nature conservation and the way it is delivered at a local level.
At the awards ceremony, which took place on Tuesday 3 December, Lichfield District Council won the Changing the Way We Work award for its contribution to ecology and the environment through its ground-breaking approach to biodiversity net gain to encourage nature conservation.
Biodiversity encompasses the variety of life on Earth - from humans, animals, plants, insects and birds and the diversity of all the habitats in which they live. It supports many basic natural services for humans, such as fresh water, fertile soil and clean air.
To protect, restore and enhance its local biodiversity, Lichfield District Council's ecology team created a net gain Lichfield model that formed part of its planning process.
It makes sure developers commit to off-set any potential loss of natural habitat by creating or protecting natural spaces within the development, or funding work to enhance existing local natural habitats within the district. This can include many hectares of woodland, heathland, grassland, as well as hedgerow planting, and bird nesting and bat roosting opportunities.
Justine Lloyd, Ecology Manager who accepted the award on behalf of the council, said:
"I was delighted to collect this award and really pleased the council has been highlighted for its commitment to safeguarding the district's natural environment.

"In designing our net gains system, we wanted to make it easy for developers to understand, that it would not over-burden officers, that it ensures measurable net gains, and allows our planning system to support ecological work.

"We've been overwhelmed by the response over the past year from all levels of government and have been working to show how we can protect the natural environment, while encouraging sustainable development."
Of the Association of Local Government Ecologists award, the judging panel recognised that Lichfield District Council's work on biodiversity net gain has been instrumental in demonstrating that gains could be delivered through development and has shown how local planning policy could be designed to enable this. And in doing so has played a significant role in influencing the introduction of a mandate for biodiversity net gain in England.
The success of the council's biodiversity net gain model has resulted in the national demand for training and advice from government colleagues seeking to improve biodiversity outcomes. This has included central government, national agencies and local government departments across the country.