Spring guided tours of Lichfield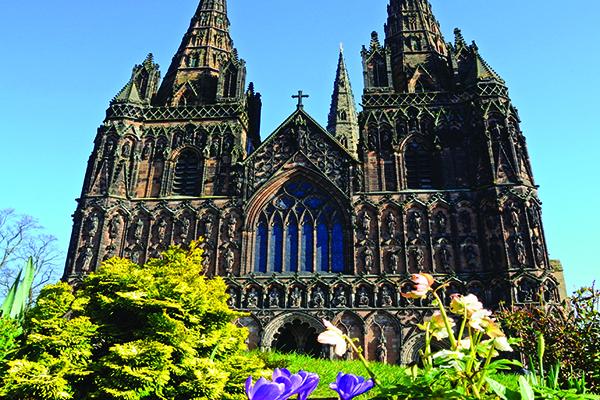 Visit Lichfield has a treat for you this spring with their line-up of exciting city tours.
Visit Lichfield is offering new guided tours this March, including a tour to celebrate Mother's Day.
See local history come alive as you visit the spots where history was made and celebrate the rich characters of Lichfield's past. There are lots of interesting tours to choose from, including:
Pool Walk with St Chad takes you on a guided tour exploring the history of Lichfield's saints. A costumed tour guide will take participants on a gentle walk while telling you all about St Chad, his work as the Bishop of Mercia in the Dark Ages, and the history of his contemporaries and the Midland saints. The tour will run on Sunday 1 March at 2.30pm and costs £6.
Cathedral Close Tour takes you around Cathedral Close where you will learn about the buildings and inhabitants of the past. The tour will run on Sunday 8 March at 2pm and costs £6.
Georgian Gems is a fascinating guided tour revealing the Georgian history and architecture of the city, and is on Saturday 14 March at 2pm and costs £6.
Mothering Sunday, Women's History Tour is an event to celebrate Mother's Day. Be inspired and amazed by the stories of some of the women who have made their mark on Lichfield in a variety of ways throughout history, including the Romantic poet, Anna Seward.
Afterwards enjoy some well-earned refreshments at Erasmus Darwin House. The tour will run on Sunday 22 March at 2pm and costs £9.50 per person.
Literature Tour: Reading, Writing and Roaming is an informative tour, exploring the literary characters that shaped Lichfield, and is on Sunday 29 March at 2pm and costs £6.
Councillor Iain Eadie, Cabinet Member for Investment, Economic Growth & Tourism, said:
"We are really pleased with our line-up of spring tours which has something for everyone. From the intrigues of saints to the women who have helped shape Lichfield, there is so much local history to find out.

"We hope plenty of families will book onto our Women's History Tour on Mother's Day so they can spend some quality time with their mothers celebrating women of the past and present.

"With the signs of spring on the way, the tours offer a gentle stroll through our picturesque city and parks, while finding out lots of interesting facts along the way."
To find out more about the tours on offer, go to www.visitlichfield.co.uk/tours.
Tours need to be booked either in person at the Visitor Information desk at St Mary's in the Market Square or by calling the team on 01543 308924.
Don't forget, Visit Lichfield is also continuing its Discover Lichfield Tours every Friday throughout March. The tours do not need to be booked, simply turn up at 1.30pm at the Visitor Information Desk in St Mary's on the Market Square and pay a member of the team for the £6 for the tour before setting off at 2pm.
Remember to dress appropriately for the weather and wear shoes comfortable enough to walk in.