Council meets with Friends of Friary Grange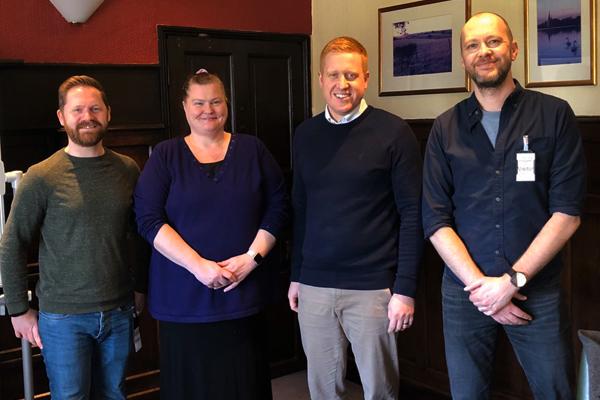 Three Friends of Friary Grange met with council leaders for an update on the plans for the future of leisure provision in Lichfield.
On Thursday 27 February the council invited the Friends of Friary Grange to a meeting to go through its progress for keeping Friary Grange Leisure Centre open after April 2020 for up to five years and on its longer-term plans to create a leisure facility in Lichfield.
The three members of the friends group - Caroline Fellows, Matt Wilson and Phil John – met with the Leader of the Council, Councillor Doug Pullen as well as members of Lichfield District Council's leisure team. Councillor Liz Little, Cabinet Member for Recycling and Leisure, also attended the meeting via a conference call.
The council explained that it is making headway, having set up a project board, which includes officers and councillors who are overseeing the short-term and long-term plans. The work has been separated into three projects, which are now underway.
The first project includes working with Staffordshire County Council, The Friary School and Freedom Leisure to make sure the licenses, contracts and leases are in place to keep Friary Grange Leisure Centre open to the public beyond April 2020.
The second project is the essential repairs to Friary Grange, with the aim of keeping the leisure centre open for up to five years. The council has appointed Townsend and Renaudon to project manage the works. They are preparing the documentation for the tendering process to appoint a contractor.
The third project is to provide future leisure facilities. The council has appointed Max Associates to support this process, which includes choosing a site, consulting on plans, securing planning permission and completing the build within five years. The council is also looking to set up a new member task group to help direct the development of the new facility.
The next milestone will be to appoint the contractors to carry out the essential repair works which will be in the spring.
Councillor Liz Little, Cabinet Member for Recycling & Leisure, said:
"I'm delighted we were able to meet with Friends of Friary Grange and to update them with the latest progress. We have a shared passion for Lichfield and I look forward to working with them over the coming years."
To keep up to date on the project, visit www.lichfielddc.gov.uk/leisureplans.