Fly-tipping at Hopwas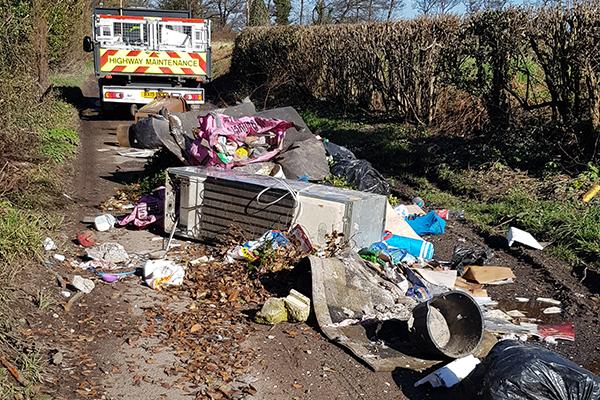 Council urges anyone with information to come forward to help stamp out fly-tipping.
On Monday 2 March, Lichfield District Council was called out to remove a pile of waste that was completely blocking Dunstall Lane in Hopwas.
The team cleared away a truck-full of rubbish, including an old fridge-freezer, buckets, bin bags, old carpet, rubble and a bin full of human waste.
Councillor Liz Little, Cabinet Member for Recycling & Leisure, said:
"Fly-tipping is a criminal offence that is both unsightly and expensive to clear up. We're looking for evidence of who dumped the truck-load of waste, and if we can identify them we will seek to prosecute.

"We're also taking this opportunity to remind local residents and businesses that they need to check the documentation of any contractors they intend to use to dispose of their waste. This is because the responsibility or 'duty of care' is on the employer of the contractor, so you could be fined if someone you use to do your gardening, building works or house clearance, then goes on to illegally dump any of your waste."
The maximum penalty for fly-tipping is a custodial sentence of up to six months and an unlimited fine.
To help stamp out fly-tipping, report it to Lichfield District Council online at www.lichfielddc.gov.uk/report or by calling 01543 308999.