Sign up for a council tax online account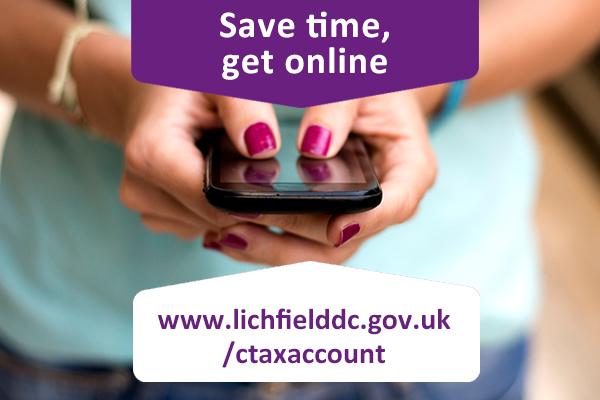 Save time online by registering for a My Account to have all your council tax information available in one handy place.
Lichfield District Council is in the process of sending out this coming year's council tax bills to a total of 46,318 homes across the district.
The bills set out the amount households will pay for their local services provided by Lichfield District Council, Staffordshire County Council, the police and fire services and parish councils.
This year Lichfield District Council is using the bills to promote its online registration service, My Account. By signing up, households can access their council tax bills at any time, check their balance, never lose a bill and cut down on paper. Sign up for an online council tax account at www.lichfielddc.gov.uk/ctaxaccount.
The new bills also give information about how to make paying for council tax easier by setting up a direct debit. Quick and easy to set up, paying by direct debit means you never miss a payment, and you can pay in ten or twelve monthly instalments over the year choosing to pay on either the first or eighteenth of the month.
Councillor Andy Smith, Cabinet Member for Customer Services & Innovation, said:
"No one looks forward to getting their council tax bills, so we want to make it as easy as possible to keep on top of payments by registering for an online My Account and paying by direct debit. They mean you will never miss a payment and will be able to keep track of your bill in one handy place.

"I also want to take this opportunity to remind anyone who usually pays for their council tax using the payment boxes in our District Council House reception and at Burntwood Library, that we are removing these boxes at the end of April 2020.

"There are many more convenient ways to pay for your council tax, such as setting up a direct debit or paying by card online or over the phone. However, if any of our residents want to continue to pay by cash, they can do so at any Post Office, PayPoint or Payzone outlet. You just need to take your new bill with you as it has a barcode on it which will need to be scanned."
To find out more about council tax, how to pay, and whether you could be entitled to an exemption or discount, visit www.lichfielddc.gov.uk/counciltax.