New guides aim to boost visitor numbers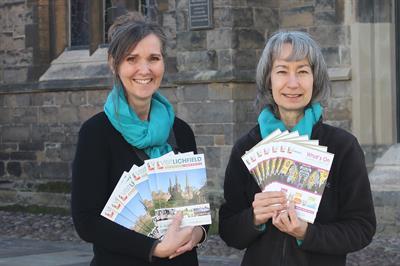 Lichfield District Council launches 2019 Visit Lichfield guide and spring and summer What's On brochure.
Produced by the council's tourism team, this year's Visit Lichfield guide aims to encourage more people to come to the city and district. It gives tourists a great overview of the places to visit and the attractions to see when planning a trip.
It also features a map of the city, a brief history of Lichfield and an overview of four famous Lichfieldians - perfect for visitors to discover more about the city and how it has been shaped over time.
The guides are available from Tourist Information at St Mary's in the Market Square. They are also being distributed locally and nationally to raise the profile of Lichfield District as a tourism destination.
The council's tourism team is also launching What's On, which lists events taking place across the district from March through to August 2019.
From the Lichfield Bower, Lichfield Festival and Fuse through to Beacon Park Fun Day and Lichfield Food Festival, there is plenty to keep your diary full this spring and summer.
The brochures are available from Tourist Information, local attractions and supermarkets.
Councillor Ian Pritchard, Cabinet Member responsible for Tourism at Lichfield District Council, said:
"Our Visit Lichfield publications really show just how much is on offer for tourists and locals. From places to visit and our packed events calendar, Lichfield District has something for everyone."
The visitor guides and What's On brochures are available from venues across the city and district. They can also be downloaded at www.visitlichfield.co.uk/download.