Emergency shopping project helps over 300 people in four weeks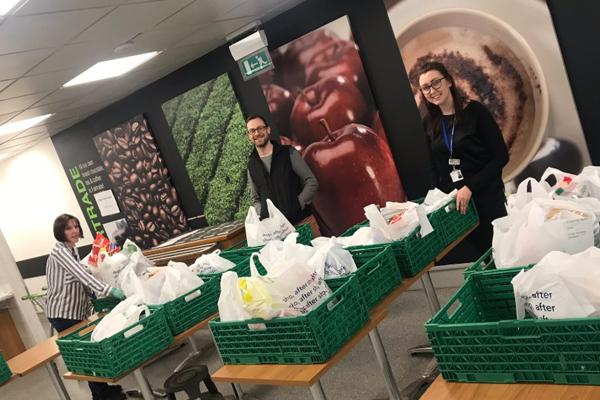 The emergency shopping scheme, run in partnership by Lichfield District Council and Central England Co-op, has now helped more than 300 people and is earning rave reviews from the local community.
The ground-breaking project, which sees the district council identify vulnerable people and work with the retailer to create and deliver vital food packages out of its community hub based in Boley Park, has now supported 318 people over the last month.
The scheme, which since launching in Lichfield has been rolled out by Central England Co-op in Stafford, Derby and Burton, has also received great feedback by the vulnerable people it has been supporting.
One Lichfield recipient said:
"It's an outstanding job that's been done for all the people who can't get out, thank you so much."
Another added:
"I'm extremely appreciative of all the hard you're all doing - thank you."
One family member said:
"'Just to say thank you so much for helping my parents. They've got in a right state with worry over all this and are scared to go near a shop. You just saved me a 70-mile round trip. Thank you - you've made a difference."
James Knight, Member and Community Relations Officer for Central England Co-op, is managing the project for the retailer from Boley Park. He said:
"It is amazing to think we have helped over 300 people in four weeks – it is a testament to the true co-operation on show between us and the council.

"The feedback has been fantastic and really showcases the impact the project is having and will continue to have in the coming weeks."
Councillor Ashley Yeates, Lichfield District Council's Cabinet Member for Communities & Housing, said:
"We're really proud to be a part of the emergency shopping service with Central England Co-op.

"It's been wonderful to see all the thank you messages coming in. They show just how vital this initiative is proving and how grateful everyone is.

"We don't want anyone who is self-isolating to worry about how they are going to get their shopping, so please do call us if you need our help."
The council will not ask for any payment information when they make the initial call to people it has identified.
If you live in Lichfield District and are self-isolating and do not have any outside help, call the emergency shopping line on 0333 220 3088, which is available from 9am to 5pm on weekdays.
To find out more about the service, visit www.lichfielddc.gov.uk/coronavirushelp.