Community hub project hits milestone of helping 1,000 people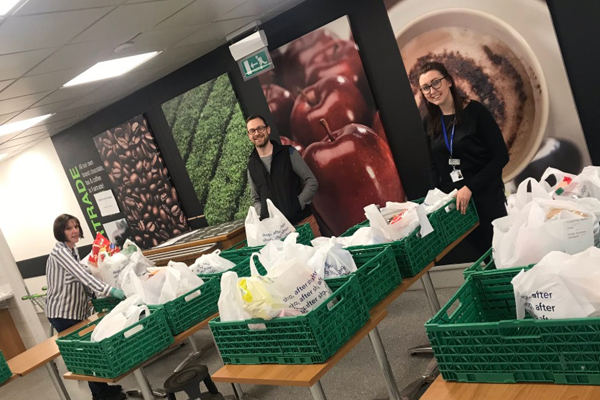 A community hub project that helps deliver vital food to the vulnerable has now helped over 1,000 people.
The scheme sees Central England Co-op link up with local councils and organisations to identify those in need, pick and pack their shopping and deliver it to their front door due to the fact that they are self-isolating.
The first community hub, which are all based out of local Central England Co-op stores, was based in Lichfield but now four other sites – Stafford, Derby, Burton and Leicester – are up and running and helping hundreds of people each and every week. More hubs in other areas are set to be rolled out in the coming months.
In less than two months, the ground-breaking project has helped 1,019 people in total.
The project has, so far, resulted in:
Over 579 parcels being delivered in Lichfield with help from Lichfield District Council
Over 380 supported by us and Stafford Borough Council
Link-ups with Derby City Council, Burton Albion Community Trust and Blaby District helping 60 people
James Knight, Member and Community Relations Officer for Central England Co-op, is managing the project for the retailer. He said:
"I am so proud to see that our great partnerships across the five areas has now seen us help over 1,000 people.
"Our community hubs have allowed us and the organisations to come together, find the people in need and ensure we get them the food and essentials they need right to their door.
"This is a perfect example of co-operation in action and while we are living through these uncertain times we will continue to work closely with council to help those who need us the most through this project."
In Lichfield, the retailer is operating out of its Boley Park food store and being supported by Lichfield District Council.
Councillor Ashley Yeates, Lichfield District Council's Cabinet Member for Communities & Housing, said:
"I'm so proud we have been able to offer this service to our residents, working closely with Central England Co-operative. For the initiative to have started in Lichfield District, and grown to include other parts of Staffordshire is great to see. To have helped more than 1,000 in total is a real achievement - well done to everyone involved."
To find out more about the emergency shopping scheme in Lichfield District, go to www.lichfielddc.gov.uk/coronavirushelp.