Christmas bin collections and recycling reminder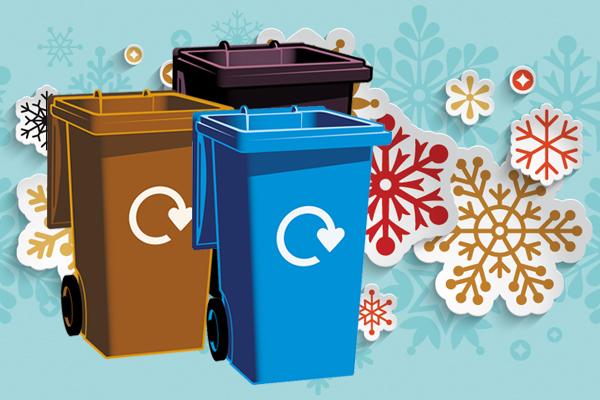 Lichfield District residents are being urged to see if there are any changes to their bin collections over Christmas by checking their new bin calendar.
Households that have their bins emptied on a Tuesday and a Wednesday across Lichfield District will have some changes to their bin collections over the festive period.
Bins will not be emptied on Christmas Day, Boxing Day and New Year's Day: Tuesday 25 and Wednesday 26 December and Tuesday 1 January. Replacement collections are detailed in the new bin calendars that have been sent to local homes recently.
The calendars also show that brown bin collections are being suspended for two weeks over the Christmas holiday period.
Councillor David Leytham, Lichfield District Council's Cabinet Member for Operational Services, Leisure & Waste, said:
"We've tried to keep disruption to a minimum, but there will be some changes to Tuesday and Wednesday collections over Christmas.

"The replacement collections are detailed in the new bin calendars so, if your bin day falls on one of these days, please make sure you check your calendar to see when to put your bins out over Christmas."
If you haven't received a bin calendar yet, visit www.lichfielddc.gov.uk/bincalendar or call the Lichfield and Tamworth Shared Waste Service on 0345 002 0022.
This week, Lichfield District Council is also reminding residents not to forget to recycle over Christmas.
Festive waste that should go in blue bins includes wrapping paper and Christmas cards that don't contain any foil or glitter, cardboard and plastic packaging, mulled wine, brandy and sherry bottles, and food containers, such as mince pie foil cases and plastic brandy butter tubs!
Festive waste that should go in brown bins includes real Christmas trees, which need to be chopped up to fit in bins with the lids closed, and real holly and ivy decorations.
"If you create extra recycling this Christmas, simply put it in clear, tied plastic bags and place them next to your blue bin on your collection day," added Cllr Leytham.