Lichfield District visitor attractions are 'good to go'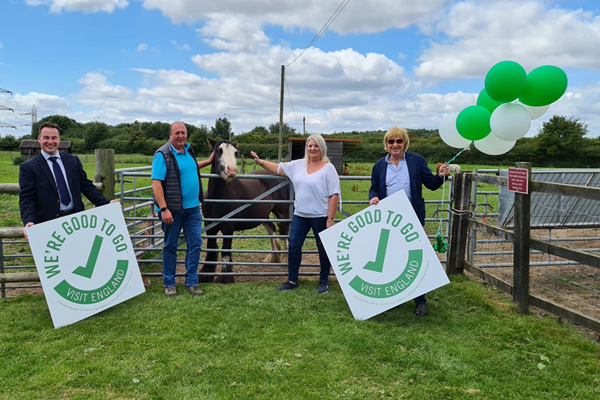 Lichfield District tourism and hospitality businesses welcome special visitors on Friday 17 July 2020.
The MP for Lichfield, Michael Fabricant, joined Lichfield District Council's Cabinet Member responsible for the district's visitor economy, Iain Eadie, to visit local tourism and hospitality venues that have achieved their We're Good to Go certification.
This is the VisitEngland and VisitBritain industry standard to signal that tourism and hospitality businesses are following government and industry Covid-19 guidelines and have processes in place to maintain cleanliness and aid social distancing.
Organised by Visit Lichfield, the first place on their whistle-stop tour was Lichfield Cathedral, which reopened to visitors on 14 July with social distancing measures in place.
Next on the agenda was the Tudor of Lichfield, a heritage café in a beautiful black and white Tudor building on Bore Street. It opened along with many other eateries across the district earlier this month.
The group then moved onto the National Memorial Arboretum in Alrewas. The national centre of remembrance has been welcoming a wide range of guests, with younger visitors particularly enjoying the recent Stickman installation.
Finally the tour ended at Bradshaw Butchers, Farm Shop and Cafe on Ironstone Road in Burntwood, where visitors can meet goats, pigs, horses and a donkey – who is enjoying his retirement from the seaside.
Councillor Iain Eadie, Cabinet Member for Visitor Economy & Local Plan, said:
"These visits gave us a good opportunity to see how our local tourist attractions and hospitality industry is adapting to the new normal and to congratulate them on achieving the We're Good to Go accreditation.

"We were very impressed by how much work has gone in to make sure visitors are safe and able to social distance.

"Achieving the We're Good to Go standard should give people the confidence to start enjoying all our district has to offer and we encourage more of our tourism providers to achieve the standard. We also hope our visit will encourage others to 'love local' and return to the places they know and love."
Of the day, Michael Fabricant MP said:
"All our venues are covid-secure and it's great to see local organisations in Lichfield city centre, Burntwood and places like the National Memorial Arboretum ensuring the safety of their visitors. As the summer draws on, we're good to go so get out and enjoy our attractions!"
The group also visited The George Hotel which reopened to guests on 4 July. The hotel has achieved Quality in Tourism's Covid-19 Safe, Clean & Legal™ certification, which launched in 2018, but has been updated to reflect additional requirements and standards for travel in response to Covid-19.