Lichfield £1 parking offer extends over August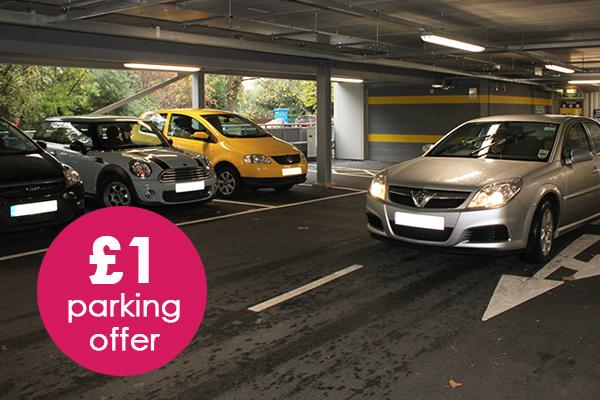 Lichfield District Council has announced that its £1 parking offer will run throughout the month of August to further support Lichfield city centre businesses.
On 6 July the council launched a special offer that means anyone can park all day in most* of the car parks that Lichfield District Council manages in the city centre for just £1.
The offer was meant to come to an end on 3 August, but the council has decided to extend it until 31 August 2020, which means everyone can park in Lichfield city centre for just £1 this summer.
Councillor Liz Little, Cabinet Member for Major Projects & Economic Development, said:
"I'm really pleased we've been able to extend this offer and I am sure everyone planning a day out in Lichfield or a quick pop to the shops will also be pleased. The offer is helping to bring people back to the city centre and is supporting our local shops, eateries and visitor attractions."
On top of the summer £1 parking offer, the council has recently made a change to Blue Badge parking in the city centre, temporarily moving the designated spaces on Bore Street, Conduit Street, Market Street and Tamworth Street over to Bird Street car park, to allow for better social distancing throughout the city centre.
However, due to concerns raised over the amount of car parking spaces lost to the general public at Bird Street car park, the council will be moving 20 of the reserved Blue Badge spaces to Lombard Street car park, which is 100 metres from Lichfield's Market Square.
Councillor Liz Little continued:
"We know Bird Street car park is a popular choice for many people driving to Lichfield and, having monitored how many Blue Badge holders are using it, we have decided to move half of these temporary spaces to Lombard Street car park.

"We will continue to monitor both car parks to make sure we get the mix right for both shoppers and Blue Badge holders."
The council is keen to encourage shoppers and visitors to try out a number of nearby car parks, including the multi-layer car park on The Friary, which is around a five minute walk to Bird Street and provides covered parking with a lift to all floors and toilets, including a Changing Places facility.
The multi storey car park on Birmingham Road is also a useful car park, giving direct access to Three Spires Shopping Centre.
Both car parks have plenty of spaces and are available to park in for just £1 a day until the end of August 2020.
*There are some exceptions to the £1 offer. Due to the operating arrangement covering Backcester Lane and Gresley Row car parks, the £1 parking special offer is not running at these car parks.
Arrangements are also slightly different for the car parks that serve Beacon Park on Shaw Lane, Greenhough Road and Bunkers Hill. These three car parks are charged at a different, lower rate. So, customers can choose to pay the minimum 50p for a shorter period or pay the £1 rate for the full day.