Local business feels the 'love'!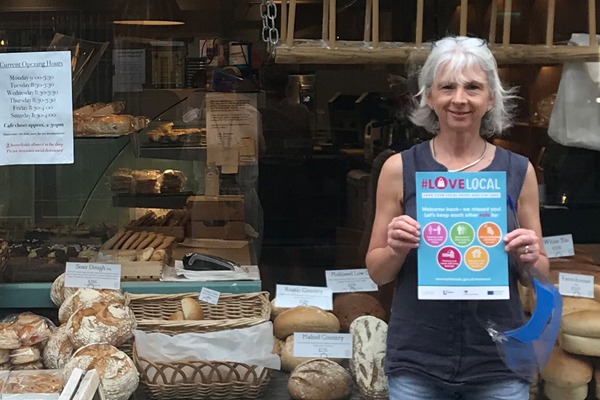 Hindleys bakery and café on Tamworth Street in Lichfield is one of hundreds of businesses across the district back open with support from the Reopening High Streets Safely project.
Hindleys is one of over 250 businesses that has been visited by Lichfield District Council's information officer or is using the #LoveLocal resource pack, which includes a covid-secure checklist, queue stickers, posters and window stickers. They also received financial support through a government retail, leisure and hospitality small business grant from Lichfield District Council.
Jackie Beaumont, Owner of Hindleys, said:
"The grant was amazing and allowed us to quickly adapt our business to Covid-19. When lockdown started, we diversified, offering home delivery options and a collection service. We did this with a skeleton staff working three days a week.

"When shops were allowed to reopen fully, we received a visit from Tas, the council's information officer. It's been great to have the support of the council and to know there is someone to help. The #LoveLocal resources have been useful - the floor stickers are fantastic, very bold, colourful and really helpful with the queuing system.

"We are very lucky to have a brilliant community in Lichfield and appreciate the support of everybody at this time."
Councillor Liz Little, Cabinet Member for Major Projects & Economic Development, commented:
"It's wonderful to hear Jackie's positive experience in keeping the business running during this challenging time.

"I'm so pleased Hindleys found our support useful and I am sure their customers were very grateful to have been able to access freshly baked goods throughout.

"Our information officer is still available to visit businesses across the district, to help signpost to support and offer our #LoveLocal resources packs, so please do book a time for a quick meeting."
Through the Reopening High Streets Safely project, which is funded by the European Regional Development Fund, the council is visiting local shops and businesses to offer support and advice, to make sure they are operating in a safe environment.