New library is set to open its doors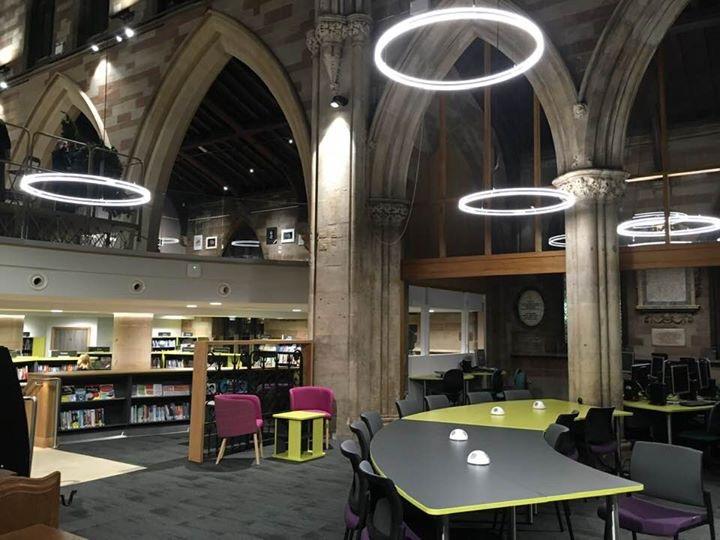 Two years of investment and hard work come to fruition next week when Lichfield's new library opens its doors.
The city centre library on the ground floor of the former St Mary's Church in Lichfield will welcome the public from 9am on Monday 17 December.
It is the culmination of a £1.4 million investment over two years which also sees Lichfield District Council's tourist information centre installed on the ground floor and a versatile venue with gallery, heritage and performance space on the first floor, along with a history access point for digitised archive collections.
Gill Heath, Staffordshire County Cabinet Member responsible for libraries, said:
"It is so exciting to see this investment come to fruition. Not only does it guarantee a library in the heart of Lichfield for the next 30 years, the long-term lease underpins the future of this magnificent building by allowing the Guild of St Mary's to develop the arts and performance side.

"This combined offer will be a great thing for residents, but also increase footfall and support nearby shops and businesses."
Work on the building, which was completed in 1870, has included exposing the church's 19th century columns, incorporating etched glass screens into the new layout and retaining the altar, choir stalls and pews at the east end in an IT study area.
While one end of the first floor will have a balcony overlooking the level below, its central space will be occupied by a flexible performance and exhibition space with seating for more than 130.
Cllr Ian Pritchard, Deputy Leader and Cabinet Member for Economic Growth, Environment & Development Services at Lichfield District Council, said:
"We're delighted to be moving our tourist information service back into St Mary's. The building has been skilfully remodelled into a modern, vibrant and accessible community hub and we are thrilled to have played a part in its transformation and in its future.

"I am certain that St Mary's is set to become a new heart of the city and play a significant role in boosting footfall and trade for local businesses. I would like to congratulate the team for delivering such a fantastic restoration and I look forward to watching it grow from strength to strength over the coming years."
Nick Sedgwick, Chair of the Board of Trustees for St Mary's, said:
"We are thrilled that St Mary's is now offering an exciting and varied programme of events in 2019, which are open to all, plus our Christmas events including a 'Christmas Cracker' fundraiser on Friday 14 December.

"The development of this unique venue would not have been possible without the help and dedication of our Trustees, Friends, Supporters and Donors so I would like to take this opportunity to thank everyone involved."
Apart from books, Lichfield's library will have free wi-fi and contain themed areas for children and teenagers, plus touchscreen tables, computer tablets and 3D printing facilities.
Gill Heath added:
"If people aren't already a member of Staffordshire's library service this is the perfect time to join."
To see St Mary's programme of events and to buy tickets go to www.stmaryslichfield.co.uk.