Burntwood business adapts to 'new normal'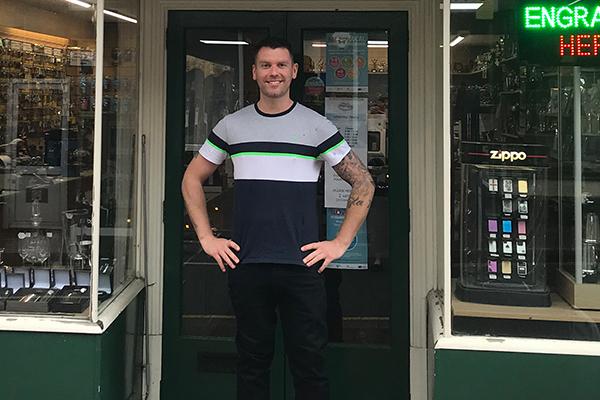 Chase Engraving Centre thanks its customers for their support and welcomes seeing more people returning to the high street.
In the second in a series of business case studies detailing how local businesses have been adapting to the new ways of working due to Covid-19, Lichfield District Council's information officer caught up with Jamie Edwards, owner of Chase Engraving Centre.
A family-run business based on Chasetown High Street, Chase Engraving Centre specialises in engraving, trophies, watch repairs, key cutting, gifts, shoe repairs and more.
Speaking of the early support that was available, Jamie Edwards said:
"Receiving a business grant was fantastic and an instant weight off my shoulders. Health has always come first for me, so I closed the shop to ensure my safety and my customers' safety. The business grant allowed me to do that and also to get my business covid-secure for reopening."
When reopening after lockdown, Jamie found the support and resources from the council useful. He went on to say:
"It's been so good to see the council physically out and about visiting businesses to see how we are and how they can help. I think it's really important to have that relationship with your council.

"The resources are great too. During lockdown people have realised how important local high streets and towns are so the #LoveLocal campaign just reminds people to shop local and help their community."
Of how customers have responded to shops reopening, Jamie had this to say:
"After the business was closed for eight weeks I was apprehensive to come back, but the customers have been brilliant. It's really nice to see people in the streets and shops again and to know I have the support of the council to help if it is needed. We're starting to see the high street become busier as the lockdown rules have been eased and people's confidence returns. I hope people remember to shop at their local shops."
Councillor Liz Little, Cabinet Member for Major Projects & Economic Development, commented:
"Burntwood has a fantastic line-up of independent shops and businesses, and it's clear to see how much they value their local community.

"I am so pleased Chase Engraving Centre has appreciated the help we've been able to give. Their grant has been put to good use, enabling the business to survive lockdown, and the resources and support from our information officer have also been well received."
Through the Reopening High Streets Safely project, funded by the European Regional Development Fund, Lichfield District Council is continuing to visit businesses to make sure they have the information and resources they need to increase trade while keeping their staff and customers safe.