Burntwood business embraces #LoveLocal campaign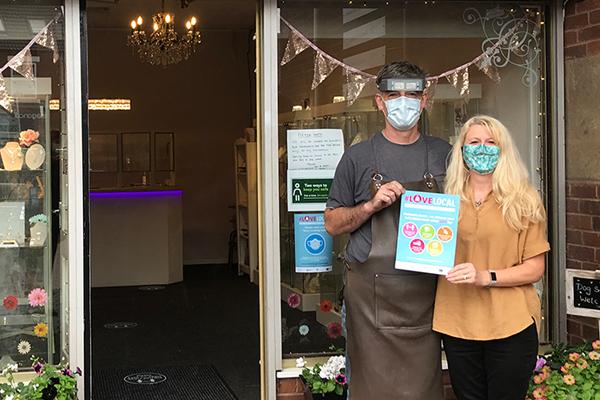 A jewel in the crown of Burntwood's independent businesses, Personal Touch Jewellery, has been describing how they have been quick to adapt their operations in response to the global health crisis.
In the third in a series of case studies that focus on how local businesses have been responding to the challenging trading environment, the spotlight is being turned on Personal Touch, a family owned business that specialises in bespoke, custom made jewellery, based on Chasetown High Street.
The owners of Personal Touch Jewellery, Kevin and Helen Lewis, have been sharing their experiences with Lichfield District Council's information officer, Tasmin Turner. They commented:
"We received a government business grant that was brilliant and a massive help. The council was really helpful with the application and we received it really quickly. The money was crucial in keeping the business open. We also furloughed a couple of members of staff, which also helped to ensure the business could reopen once it was safe to do so."
In response to the information officer's role and the #LoveLocal resources, which includes a covid-secure checklist, posters, queue stickers and a window vinyl, Kevin and Helen went on to say:
"It's also been great to have the support of the information officer to help with advice or any questions we may have. Posters and signage can be expensive so it has helped with the cost to be given some additional resources. The face mask posters are great at reminding people to wear them on entry and the floor stickers help with our weekend queues."
Of Personal Touch Jewellery's outlook for the future, the joint owners were positive and had a message of thanks for their local community.
"We were so excited to be able to return to work, we are a family business that has been open for over 20 years and we can't thank our lovely customers enough for their support. Business has been great - we are so lucky to have amazing customers old and new visit us," continued Kevin and Helen.
Councillor Liz Little, Cabinet Member for Major Projects & Economic Development, added:
"We know how vital it is to support our local businesses through these unprecedented times, so it's really encouraging to hear this positive feedback from Personal Touch Jewellery.

"We want to safeguard local high streets and shopping centres, and worked hard to distribute the government's business grants quickly to give some breathing space for businesses, to allow them to keep going.

"It is heartening to hear how well the role of our information officer is being received and we will continue to visit even more businesses and make sure they have the information and resources they need to increase trade while keeping their staff and customers safe."
Through the Reopening High Streets Safely project, funded by the European Regional Development Fund, Lichfield District Council is continuing to offer businesses support and advice, while encouraging residents to #LoveLocal.
About Reopening High Streets Safely
The project has received £92,501 of funding from the England European Regional Development Fund as part of the European Structural and Investment Funds Growth Programme 2014 to 2020.
The Ministry of Housing, Communities and Local Government is the managing authority for European Regional Development Fund.
Established by the European Union, the European Regional Development Fund helps local areas stimulate their economic development by investing in projects which will support innovation, businesses, create jobs and local community regenerations.
For more information visit www.gov.uk/european-growth-funding.