Small business grant helps launch marketing business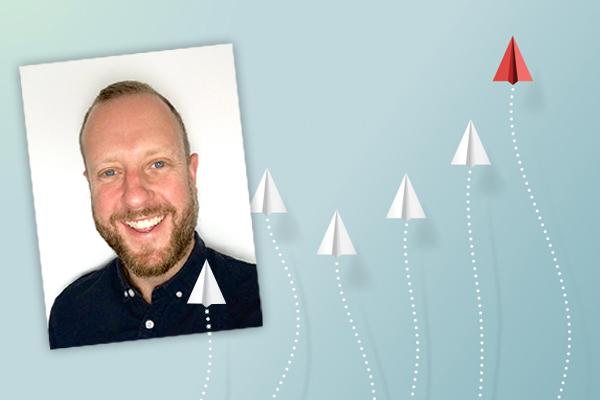 A marketing consultant has spoken of how a small business grant from Lichfield District Council helped him realise his ambition to go freelance. Now round nine of the grant scheme is open and small businesses and start-ups across Lichfield District are once again invited to apply.
Jez Booker, a freelance marketing consultant from Lichfield, received £700 from Lichfield District Council's small business grant fund to buy a laptop.
This is the initiative that offers grants of between £500 and £1,500 to local small businesses and start-ups looking at overcoming financial barriers to growth. A maximum of 50% of the costs of the total project can be applied for.
Of how he decided to go freelance, Jez Booker said:
"After finishing a fixed term contract, I was searching for traditional full-time marketing jobs. A friend recommended the Blue Orchid start-up course as a healthy distraction from job-hunting.

"On the course I found out about the council's grant scheme and it was an inspiring experience, meeting other entrepreneurial people, all at different stages of their business development. The course gave me the confidence to go it alone as a self-employed marketing consultant, and I got a grant for £700, which was the icing on the cake.

"It helped me commit to taking the plunge after years of working for other people and enabled me to invest in replacing my old clunky laptop with a new one."
Speaking of how receiving the grant helped his business, Jez continued:
"I hit the ground running and within three months had four high profile clients.

"The new laptop boosted my confidence, helping me to create professional looking pitch presentations, as well as delivering the work using reliable kit. It made me look and feel more professional, which also gave me a big psychological boost.

"I now run a successful freelancing business, with happy clients and feel optimistic about the future, despite everything that has happened in 2020 so far!"
Of why other businesses should consider applying for a grant, Jez added:
"Applying for a grant will focus the mind for any business, whether you're building something from scratch like I was, or expanding an existing enterprise.

"It's not just about the money - although that of course is great - it really makes you focus on what you need most to give your business the boost it needs. The application process ensures you put together a solid business plan to map out your goals and the money at the end is a fantastic motivator."
Councillor Liz Little, Cabinet Member for Major Projects & Economic Development, added:
"It's really encouraging to hear about Jez's journey, and I am delighted we were able to help with both a grant and business support."
To be eligible for a small business grant, applicants must first receive 12 hours of free business support from Enterprise for Success, which includes attending a two-day start-up masterclass.
"As the Coronavirus Job Retention Scheme finishes at the end of this month, our residents may be seeking to capture the district's entrepreneurial spirit and become self-employed.

"The start-up masterclass and grant will help them develop their business plan, financial forecasts and launch their new business," added Cllr Little.
So far there have been eight rounds of funding, with 43 businesses having received £49,285 altogether.