Residents reminded of duty of care after rise in fly-tipping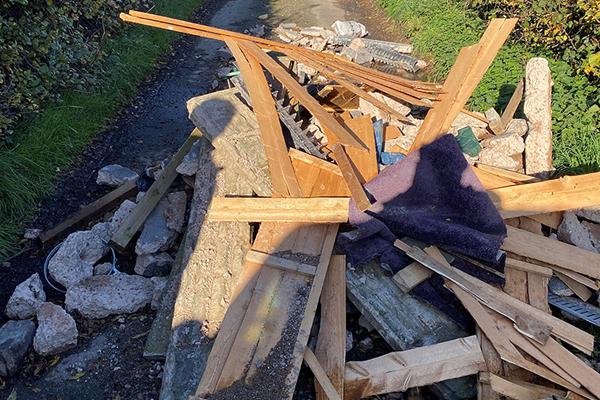 With a 60 percent increase in fly-tipping across the district, local householders are being asked to be alert to rogue traders who offer to remove waste for a fee, but then go onto dump it.
After seeing fly-tipping incidences steadily increase, Lichfield District Council is reminding local people that they have a duty of care around their waste.
Councillor Richard Cox, Cabinet Member for responsible for Waste, said:
"It's unacceptable and really disappointing that so much fly-tipping is happening on local roads throughout the district. It is both unsightly and expensive for our teams to clean up.
"Judging by the waste that we're finding, we suspect rogue traders are going door-to-door and offering to remove household rubbish and then dumping it on local roads.

"Everyone can help us to keep the district free of fly-tipping by making sure they only use properly licensed companies to dispose of waste on their behalf.

"So, when employing a gardener, tree surgeon, builder or house clearance company, it's important to check they have a waste carriers' licence, which means they can legally remove your waste. If they cannot produce this paperwork, don't use them as they could go on to dump your waste."
As well as local household recycling centres in Lichfield and Burntwood, local households can use the council's bulky wastes service to dispose of unwanted bulky items. It costs £15.50 for the first item and £6.40 for every subsequent item. The service can be booked online or by calling 0345 002 0022.
People who may have seen rubbish being dumped locally are also being urged to come forward.
"We always try to gather evidence by going through fly-tipped rubbish and if we identify the culprits we will seek to prosecute. If you have any information, please report it to us as soon as possible to help us with our investigations," added Cllr Cox.
Useful information needed includes the date, time, location and type of waste being dumped, vehicle details, a description of the people involved, as well as any photographic or video evidence of the offence taking place.
You can report fly-tipping or information about a recent fly-tipping offence on our report it page or by calling 01543 308999.