Christmas bin collections and recycling reminder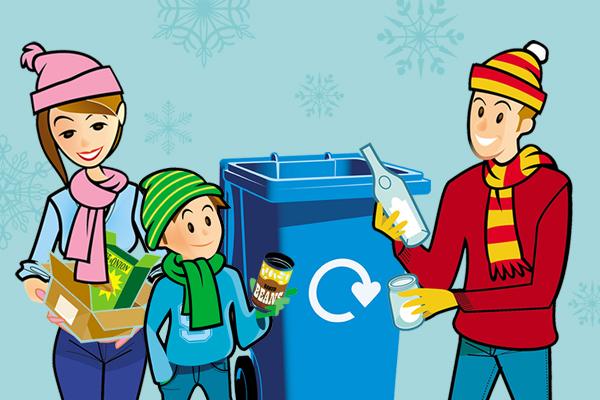 Households across the district have been sent new 2021 bin calendars, which also include information about Christmas bin collections.
Local households that have their bins emptied on a Friday will have some changes to their waste collections over the festive period.
As set out in the calendars, bins will not be emptied on Christmas Day or New Year's Day, both of which fall on a Friday.
Local homes that would have been due a blue bin collection on Christmas Day will have them collected on either Wednesday 23 or Thursday 24 December.
Households that would have had their black bins emptied on Christmas Day will have their replacement collections on either Monday 28 or Tuesday 29 December.
All replacement collections for blue and black bins that would have been emptied on New Year's Day will be on Saturday 2 January.
The garden waste service will be paused from mid-December to the end of January. Residents should check their calendars for their first brown bin collection date in 2021.
Councillor Richard Cox, Lichfield District Council's Cabinet Member Responsible for Waste, said:
"By now local homes should have received their new bin calendars that are a useful tool to help you remember which bins go out on which day.

"This is especially important over the festive break, as people who have their bins emptied on a Friday will need to double check when their replacement collections will be."
Calendars can also be downloaded online, entering your postcode and then selecting 'download collection calendar'. Alternatively telephone the Lichfield and Tamworth Shared Waste Service.
Local households are also being reminded to recycle over Christmas and remember not to bag up any recycling, as items should go in blue bins loose. Excess recycling can be put in clear plastic bags next to your blue bin on your collection day.
Festive waste that should go in blue bins includes wrapping paper and Christmas cards that don't contain any foil or glitter, cardboard and plastic packaging, mulled wine, brandy and sherry bottles, and food containers, such as mince pie foil cases and plastic brandy butter tubs, which have been rinsed out.
Festive waste that should go in brown bins includes real Christmas trees, which need to be chopped up to fit in bins with the lids closed, and real holly and ivy decorations, but not if they contain glitter or glue.
"I'd like to take this opportunity to thank everyone for their recycling efforts and for getting to grips with the changes we've made to the service, such as asking everyone to stop bagging up blue bin waste. It's been a challenging year for us all and so your support is really appreciated.

"A big thank you must also go to our waste and recycling team who've kept the service running like clockwork over the year, despite the pandemic and all the issues it has brought with it. You deserve a well-earned break over Christmas and New Year!" added Councillor Cox.