Lichfield and Staffordshire remain in Covid Tier 3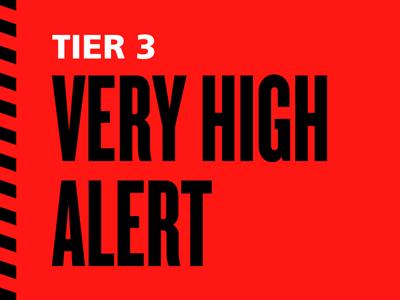 The leader of the council has issued a statement following the news that the whole of Staffordshire will remain in tier 3 - very high alert level
Councillor Doug Pullen, Leader of Lichfield District Council said;
"The news that Staffordshire remains under Tier 3 Covid restrictions after this week's review is frustrating but perhaps not unexpected. News of rising case rates from other parts of the county and from across the country are a stark reminder that the battle with Covid is not yet over.

"There are many reasons why we all want to see Lichfield, along with the rest of Staffordshire, moved to a lower level of restrictions. The number of cases in our district is declining steadily, but hospital admission rates across the wider region remain high - one of the key factors taken into consideration by the review.

"Locally we are doing everything we can to support our local business community with initiatives such as our '#LoveLocal' safe shopping campaign. We are also continuing to provide advice and guidance to businesses and access to a range of financial support. Businesses can find out more online or contact our economic development team to see what's available.

"Along with other council leaders from across Staffordshire I have written to the Prime Minister asking for additional financial support for our hospitality and tourism industries and making the case for Staffordshire to be in a lower tier".

"Christmas is just around the corner and whilst restrictions are being eased slightly to give families and friends the opportunity to get together, let's all take care and celebrate safely".