Friary Grange Leisure Centre to re-open in January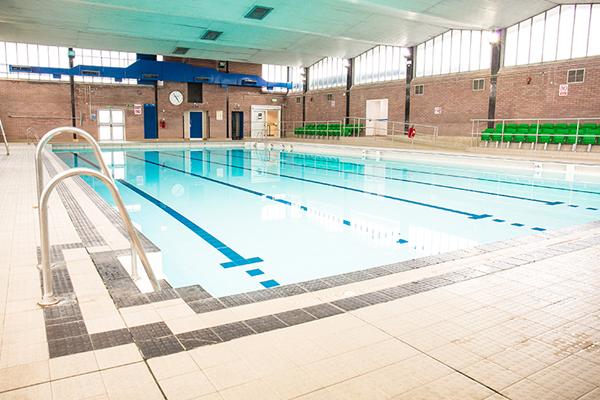 Fitness fans will be welcomed back to Friary Grange Leisure Centre in January following the completion of essential repair work.
Repairs planned for December at Friary Grange Leisure Centre, operated by Freedom Leisure, have been completed on schedule to allow centre users to return from Monday 4 January 2021.
Work has been carried out on the swimming pool, changing rooms, gym, squash courts, rowing room and spin room areas. The full closure of the leisure centre in December allowed for some of the repairs to be finished ahead of schedule, which will minimise disruption in the new year when final works are completed.
The January re-opening marks the end of the first phase in Lichfield District Council's investment in repairs for Friary Grange, which are scheduled to be completed in March. Funding was allocated by the council in 2019 as part of a pledge to keep the leisure centre open until a new leisure facility is built in Lichfield.
Due to current Covid restrictions prohibiting indoor fitness classes, the group exercise studio will continue to be used as part of an extended gym area to help with social distancing.
Councillor Richard Cox, Cabinet Member responsible for Leisure, said:
"I am delighted we will see Friary Grange reopening as planned in January. While much of the repair work needed has been away from public facing areas, I'm confident visitors to the centre will notice the difference from the re-decoration of reception, changing room and gym areas, and will be glad to be able to make use of the facilities again.

"The national lockdown period and covid restrictions made the work much more complicated than originally anticipated, but we were able to use the period to reorganise the timing of the work programme to get ahead of schedule in some areas.

"There are more repairs to be carried out behind the scenes in the new year, but we hope this won't cause significant disruption to users."
Lee Thomas, Freedom Leisure Area Manager, said:
"It is great news that Friary Grange is reopening and our team can't wait to welcome back the local community.

"There are strict procedures in place to ensure Friary Grange provides a covid-safe place to give customers the reassurance we know they need to return to exercise, activity and have the chance to socialise safely with others.

"We are also running a joining offer on memberships from 26 December to the 18 January. New members can join for just £1 and pay nothing more until February 2021."
Find out more about Friary Grange Leisure Centre.
Keep up to date with Friary Grange Leisure Centre's repairs programme.