Support continues for businesses across the district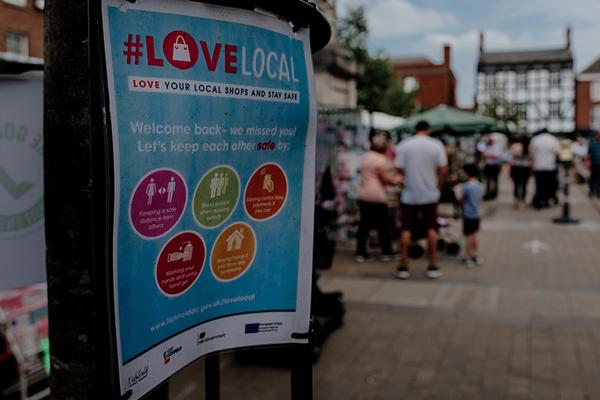 From the speedy distribution of grants and urging people to shop local through a #LoveLocal campaign, to extending trading hours and offering free parking over Christmas, support is continuing for local businesses during what has been a very challenging trading year.
As Covid-19 restrictions continue to put pressure on the local economy Lichfield District Council is working hard to make sure businesses have access to the information and support they need.
On top of creating a business support and advice section on its website, since the spring the council has distributed almost £20 million in government funding to local businesses through the first rounds of small business grants.
This was followed by the launch of its #LoveLocal campaign, which helps businesses to be covid-secure and encourages people to shop locally while following social-distancing guidance.
In the run up to Christmas the council adapted its message to #LoveLocal this Christmas to urge shoppers to safely support Lichfield and Burntwood businesses this festive season.
Another way the council is supporting retailers is by extending the hours they can operate during the busy Christmas shopping period. And, to further support them and give shoppers an extra treat for Christmas, the council is offering free car parking in all but two of its Lichfield city centre car parks until 3 January 2021.
The latest rounds of Government grants are being distributed to local businesses as quickly as possible. So far around 500 businesses have applied for the Local Restrictions Support Grant and more than 100 for the Additional Restrictions Grant, and 14 establishments have been identified as eligible for the Christmas Support Payment for wet-led pubs.
Find out if your business is eligible for any of these grants and how to apply.
The appointment a new fulltime Information Officer means businesses will continue to get first hand support, advice and access to resources.
Councillor Liz Little, Cabinet Member responsible for Economic Development, said:
"This has been such a difficult trading year, and it is vital we continue to support local businesses and protect the local economy.

"We are lucky to have so many fantastic businesses across the district and we are proud to be continuing to work with them to help them through these challenging times."
Sign up to receive the council's monthly e-newsletter for businesses, LDC Business News.