Birmingham Road Site public event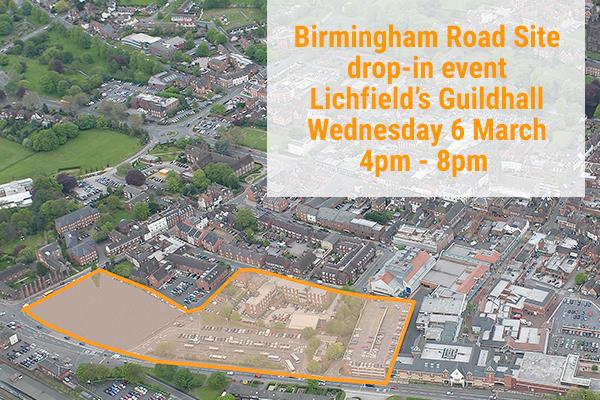 Come along and have your say on the Birmingham Road Site on Wednesday 6 March 2019, between 4pm and 8pm in Lichfield's Guildhall, with presentations at 5pm, 6pm and 7pm.
Local residents, with an interest in the future development of the Birmingham Road Site, are invited to come along and find out about the work of the cross-party working group and to give their views.
The drop-in event will include presentations from task group members and partners (at 5pm, 6pm and 7pm), the opportunity to talk to key council members and officers, and the chance to feed ideas in for what the future development could include.
Long-term plans for the Lichfield city centre development are at a very early stage, and this event, along with a stakeholder round-table event that will take place on 27 February, is a chance to share progress on the project so far and to gain ideas on what local people and stakeholders want the development of the site to include.
Councillor Mike Wilcox, Leader of Lichfield District Council, said:
"Back when Friarsgate was originally being planned, we asked local people what they wanted for the area.

"Now, with the changing nature of the high street and the different economic landscape, we need to once again ask local people, visitors, businesses and stakeholders for their views on how they would like this important gateway site to be shaped.

"It could be a cinema, a new leisure and activity centre, restaurants and bars, shops, public realm, housing and other variations that local people now want.

"We hope plenty of people will come to the event to find out more and to give us their thoughts."
Following the stakeholder and public engagement events, the Birmingham Road Site task group will seek approval from the council's Cabinet to appoint consultants to develop a long-term development brief for the site.
Find out more about plans for the Birmingham Road Site redevelopment at www.lichfielddc.gov.uk/birminghamroadsite
Background
The Birmingham Road Site, the location of the former Friarsgate scheme, is on the southern edge of Lichfield city centre.
Lichfield District Council has put together a cross-party member working group to oversee the drawing up plans for the long-term re-development of the site, which includes the former police station, bus station, former Tempest Ford garage and showroom.
While the longer-term plans are being worked on, the council is also putting together a short-term plan to improve the look and feel of the area, which it aims to deliver by autumn 2019.