Window Wanderland shines a light on Lichfield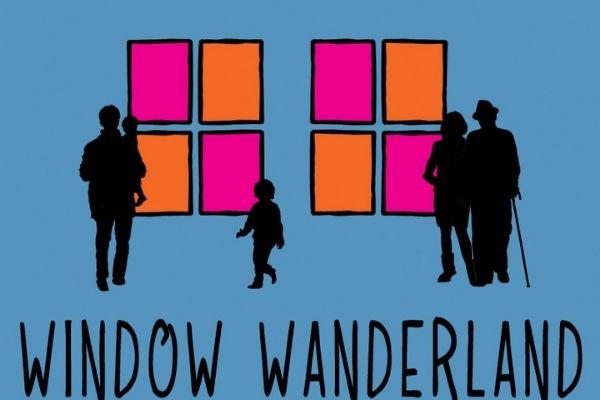 The windows of Lichfield will come alive with illuminated artwork at the end of February thanks to the Window Wanderland project and a team of local volunteers led by local resident Gemma Stewart.
Window Wanderland is an award-winning project, which provides resources for communities around the world to create illuminated window displays with the aim of bringing neighbourhoods together, reducing social isolation, and inspiring creativity.
Gemma first encountered Window Wanderland when living in Bristol where the project was originally launched. When she returned to Lichfield, Gemma thought that Window Wanderland would be an ideal community project for Lichfield and set about organising a local event.
Gemma contacted Lichfield District Council for support with promoting the Lichfield Window Wanderland and to see if other towns and villages across the district would be interested in taking part. She also secured sponsorship from SureStore Storage.
Gemma said:
"The idea behind Window Wanderland is for people to have fun creating a display for their window that neighbours will see if they walk past. Just like the rainbows in our windows last year, it is a way to put a smile on someone's face and to feel a little bit more connected even when we can't actually be together.

"Obviously because of current covid restrictions Window Wanderland might be a bit more limited than usual, and we want everyone to enjoy it safely. That's why we are asking everyone to please respect Government guidelines by adhering to social distancing and only going out to view windows in their local area as part of their daily exercise in their household group. We will be posting pictures of some of the displays on our Facebook page so that people can also see the displays without having to leave home.

"Window Wanderland is free to take part and you don't need any special materials. Displays can be as simple as fairy lights in a window or be a more creative piece of artwork. There are lots of ideas on the Window Wanderland website and on our Facebook page. With everyone spending more time at home at the moment because of lockdown this could be a great activity to get involved with."
Councillor Iain Eadie, Cabinet Member responsible for Tourism, said:
"When I first heard about the great idea of bringing our communities together through window displays I was really keen to learn more about it. Gemma has done a fantastic job to get this project off the ground and get so many people involved so I am delighted that we have been able to support her efforts.

"If people want to take their daily exercise by walking and looking at the displays as they go round where they live, I am sure this is something that will bring happiness to everyone who sees it. I would encourage everyone to do a display if they can and, on the weekend this is happening, to take a Covid-secure walk and enjoy a little bit of light in these difficult times."
Lichfield's Window Wanderland is scheduled for the weekend of 26 to 28 February with the aim of seeing as many windows decorated as possible over this period.
If you would like to take part in the Lichfield Window Wanderland or to find out more you can visit the Lichfield Window Wanderland Website or visit their Facebook page