Businesses urged to use extended free advice service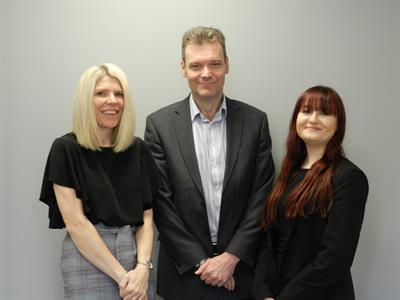 A free advice and support service for businesses across Lichfield District has been boosted with the appointment of another two advisors, to help as many as SMEs as possible in the next few months.
There are now three Growth Hub Advisors available to help small and medium sized businesses in the area reach their potential by providing them with the vital connections, information and support they need to succeed and grow.
The first Growth Hub Advisor, Klaudia Haines, was appointed at the end of last year, operating out of Tamworth Enterprise Centre and supporting businesses across Tamworth, Lichfield, Cannock and East Staffordshire.
She has now been joined by Louise Stolz and James Roberts. As Growth Hub Advisors, the trio have access to a range of services, initiatives and organisations that can help businesses tackle a variety of barriers to growth they may be experiencing.
This could include support with writing business plans for start-up firms, help recruiting staff, exploring funding opportunities and accessing training and workshops in a variety of sectors.
Klaudia, Louise and James have been busy meeting businesses at networking events and have already had appointments with more than 30 companies.
Funding for the role is only available to September, so Lichfield District Council is encouraging local businesses to take advantage of this useful and free service before the then.
Craig Jordan, Head of Economic Growth for Lichfield District Council, said:
"Getting the right kind of advice is crucial for businesses, and so we're delighted to be joining forces with Tamworth Borough Council, who is working with the Greater Birmingham and Solihull Local Enterprise Partnership to deliver this vital business support role across Southern Staffordshire. We hope plenty of businesses from across Lichfield District will take the opportunity to access the free advice from business experts, which could make all the difference in this competitive market."
The advisors can provide information and signpost to a range of organisations and schemes, such as the Higher Level Skills Match programme, which matches SMEs with work-ready local graduates, and linking with universities, such as Staffordshire, to promote the Higher and Degree Apprenticeships scheme, which enables employers to recruit new apprentices through a free recruitment system. They also have access to a range of funding opportunities, training and workshops.
This includes the many workshops available through the Growth Hub itself and the Enterprise for Success programme, delivered by Blue Orchid, on an array of subjects from social media and marketing to tax and bookkeeping.
To arrange an appointment with a Growth Hub Advisor, contact: Klaudia Haines at klaudia-haines@tamworth.gov.uk, or call 07528 630002. Louise Stolz at louise-stolz@tamworth.gov.uk, or 07855 106383, or James Roberts at james-roberts@tamworth.gov.uk, 07855 106377.

The GBSLEP Growth Hub acts as a single point of contact for business advice, funding and support for any business across Greater Birmingham, either providing support directly, or referring to specialist advice through partner organisations.

Lichfield District Council also offers a wide range of local support to businesses. For more information, please visit www.lichfielddc.gov.uk/business.