Counting down the days to first community lottery draw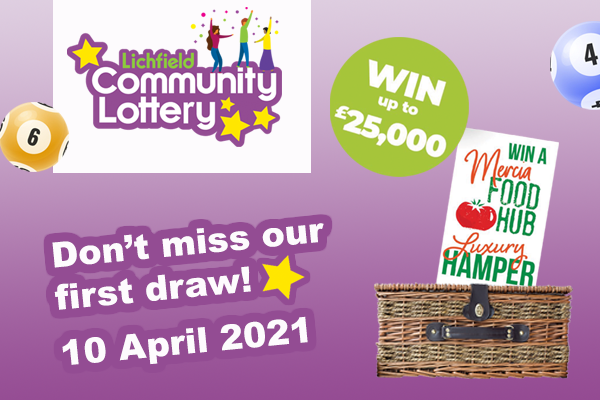 Excitement is mounting ahead of Lichfield Community Lottery's inaugural draw on Saturday 10 April.
Lichfield Community Lottery is a weekly lottery to raise money for good causes across Lichfield District.
Hundreds of lottery tickets have already been sold, raising more than £25,000. This will help to benefit 41 local charities, voluntary organisations and other good causes.
On top of a £25,000 jackpot, for the first draw supporters will be in with a chance of winning a Mercia Food Hub luxury hamper worth more than £200.
Gareth Davies, Lichfield District Council's Head of Regulatory Services, Housing & Wellbeing, said:
"We've been overwhelmed by the response to launching Lichfield Community Lottery.

"It's amazing to see the amount raised for organisations and clubs that benefit the people of Lichfield District going up every day. It will make a huge difference to many of our local good causes who've found the last year really challenging."
60p from every £1 ticket will go directly to local good causes, with the remainder being put towards prizes and running costs.
To buy your tickets, or if you are a good cause interested in signing up, please visit the Lichfield community Lottery website where you will also find a full list of the local causes you can support.