There's a starman walking in the park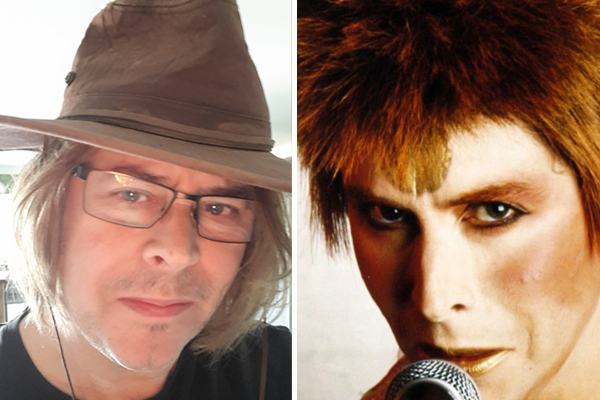 Following Lichfield District Council's #ActiveLichfieldWalks campaign to promote the benefits of walking and a series of local walking routes, one Lichfield resident was keen to share his love of walking with everyone.
Throughout what has been a very challenging year on many fronts, John Mainwaring has been documenting his walks across Lichfield District, sharing them with his Facebook followers, bringing pleasure to many.
Looking back over the last year, John said:
"If a clairvoyant had told me that in 2020 I'd have cancer, no work, and there would be a pandemic I would have asked for my money back! Sadly in reality this was the case.

"For nearly 30 years I'd been paying tribute to David Bowie's music with my band Jean Genie, performing concerts all over the world only for it all to come to a grinding halt in March last year. At the same time I was diagnosed with cancer.

"For me there was only one thing to do to thwart a possible mental breakdown, which was to walk and walk and walk, through woodlands and fields, to escape the doom and gloom of the circumstances I'd suddenly found myself in.

"Ever since I was a child I'd been interested in natural history, mainly down to my two great aunts who were teachers. They taught me so much about birds and flowers and it has stayed with me all through my life.

"Even when I was on tour with my band I would disappear and go on walks, taking photos of insects, birds and the magic of the countryside that many people miss.

"I would encourage anyone who is troubled and stressed to get out and go on an adventure, walking besides rivers, streams, through woods, or just make the effort to go to your local park. It can work wonders for the soul and helps clear your mind of negativity, not forgetting the exercise that it gives you.

"Finding badger setts and just being with nature has been so rewarding mentally, in fact it's given me strength to face my health issues and mental wellbeing.

"I post the best photos on Facebook of what I've discovered on my walks, such as butterflies, trees and flowers, and I appear to be helping and encouraging others to do the same, which is great.

"There are some amazing walks and places around Lichfield District, which have saved me from mental exhaustion. At last there appears to be some light at the end of the tunnel, so here's hoping I will be a survivor and not a sufferer."
Since John wrote this, he has had the all clear and cannot wait to rock 'n' roll again while continuing his walks around the district.
Lichfield District Council's Active Lichfield team is encouraging everyone to get outside and discover local walks. Going on a brisk 30-minute walk each day is a good way to achieve a more active lifestyle and can boost feelings of wellbeing.
The team has enjoyed seeing all the picture taken by residents when out on their local walks, which are already inspiring others to get involved. Photos can be shared on Active Lichfield's social media feeds, including Twitter, Facebook and Instagram, using the hashtag #ActiveLichfieldWalks.
To find out more about the benefits of walking, some tips to get started, and to access the walking routes and step challenge, visit Active Lichfield's website.