Free funding for broken gas boiler replacements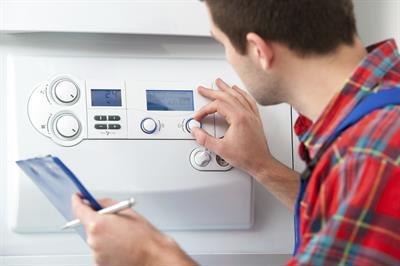 Lichfield District residents on limited incomes could benefit from new funding to replace broken gas boilers this winter.
Lichfield District Council is delighted to announce that it is one of the few local authorities nationally to be able to access the Emergency Central Heating Offer – available through the council's Warmer Homes, Greener District initiative.
A broken boiler during the winter months can be a chilly and stressful experience for most people. For those in poor health, old age and with a limited budget, the prospect of cold related ill health is very real – and many worry about ending up in hospital.
With widespread reports of pressures on the NHS in the winter months due to cold conditions, Lichfield District Council is keen to do all they can to help householders stay warm in their homes.
John from Burntwood had been without heating since his boiler broke down in March, and was the first local resident to benefit from the scheme.
Due to physical and mental health difficulties, lack of heat and hot water was causing stress, anxiety and discomfort – as well as high electrical bills from using plug-in heaters. Thanks to the Emergency Central Heating Offer, John received a free boiler replacement in October and can now face the winter with more confidence.
The council's Warmer Homes, Greener District scheme provides advice to people through a phone service, home visits and talks to groups.
Councillor Ashley Yeates, Cabinet Member for Regulatory Services, Housing & Wellbeing, said:
"Many people are unaware of the dangers that living in a cold home present to their health. The risk of a stroke or a heart attack increases, along with other conditions such as colds and flu. Unfortunately the risk of death from cardiovascular disease increases sharply during a cold snap. Just putting on another jumper isn't enough for many people.

"That is why this funding is so important and we're urging our residents, who think they could be eligible to have their broken boiler replaced, to get in touch with our Warmer Homes, Greener District energy advice line to find out more. The Emergency Central Heating Offer funds up to 100 percent of the works, so it's really worth finding out more about this scheme."
As well as funding for boiler replacements, the service can offer advice on insulation, energy tariffs and discounts.
Davina Allen, Energy Advisor, said:
"We often take calls from people concerned about neighbours or friends who are struggling, either with a crisis like a broken boiler, or often who face daily decisions about whether to heat or eat.

"Many people struggle on with broken or intermittent systems, unaware that they could be eligible for help. With the new Emergency Central Heating Offer and home visit support available, we hope to be in a position to help."
Warmer Homes, Greener District can be contacted on Freephone 0800 677 1543 or by emailing advice@mea.org.uk.
Advice is free and impartial to all residents. Funding is subject to eligibility criteria, and callers will need to provide personal information such as their household income or the benefits they receive as part of the assessment.