Have your say on 6 May, but don't forget your mask and a pen!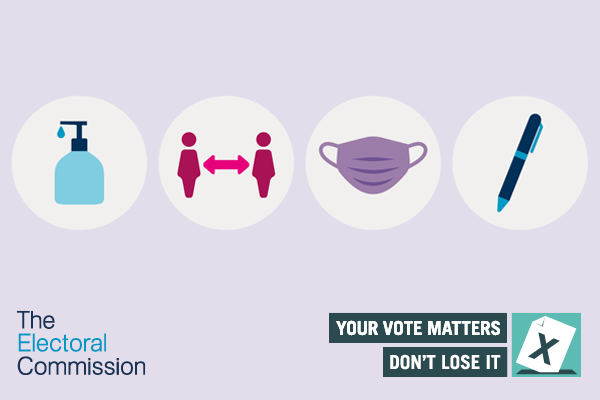 With only one week to go until voters go to the polls on 6 May, Lichfield District Council is urging locals to get ready to vote.
This year residents in Lichfield District will vote in a range of elections, including:
Staffordshire County Council
Police, Fire & Crime Commissioner for Staffordshire
Some areas will also vote in the following:
Burntwood neighbourhood planning referendum
Lichfield City (Stowe ward) parish by-election
Summerfield & All Saints district by-election
Polling stations will be safe places to vote on 6 May. People voting in person are encouraged to keep themselves and others safe by:
wearing a face covering
bringing their own pen or pencil
sanitising their hands when entering and leaving the polling station
keeping a safe distance to others
Voters should not attend the polling station if they have symptoms of Covid-19 or if they have been asked to self-isolate. Anyone who develops symptoms, or is asked to self-isolate shortly before polling day, has up to 5pm on 6 May to apply for an emergency proxy vote. This allows them to nominate someone they trust to vote on their behalf.
To find out how to apply for an emergency proxy vote please visit www.lichfielddc.gov.uk/emergencyproxy. Voters can also email the elections team or call 01543 308125.
Diane Tilley, Electoral Registration Officer for Lichfield District, said:
"Your poll card will tell you where to find your polling station. Make sure you check the information on it, as your polling station might have changed since the last elections. You do not need your poll card to vote, however, we encourage you to bring it with you to make the process quicker and more efficient.

"Polling stations will be open from 7am to 10pm on Thursday 6 May. Voters who have opted to vote by post must return their postal ballot pack by 10pm. You can hand it in at your polling station if you don't have time to return it by post."
Priority Postboxes have been introduced by the Royal Mail to help with the collection and onward delivery of Covid test kits. However, they can also be used to return postal vote packs. Find your nearest Priority Postbox.
Find out more about Lichfield District's upcoming elections.