Don't dump it – book a scrap metal collection!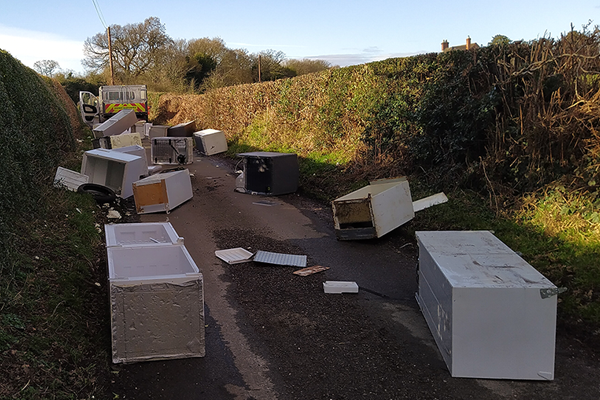 Call for residents to dispose of fridges and freezers properly after 36 are dumped in the district over the last year.
Lichfield District Council is urging local residents to dispose of their white goods properly, which means not leaving them out on the street as this counts as fly-tipping, even if they are removed by scrap metal dealers.
The warning comes after the council has noticed a worrying trend of white goods, especially fridges and freezers, being stripped of their metal motors and compressors and then being dumped locally on grass verges and country lanes.
To combat this, householders should either dispose of white goods at their local household recycling centre or pay for a licensed waste carrier to dispose of them on their behalf.
The council offers a scrap metal service and can remove white goods, including washing machines and fridge freezers, for £15.75 for the first item and £6.50 for a second item.
Councillor Ashley Yeates, Cabinet Member responsible for Climate Change & Recycling, said:
"We know it might be tempting to leave your fridge freezer out on the street for a scrap metal collector to remove, but this still counts as fly-tipping and your white goods may well be dumped elsewhere in the district.

"On top of this, if a fridge freezer's motor and compressor is not removed in the right way, harmful gasses can be released into the atmosphere.

"So, please help us to keep the district beautiful and free of pollution by always using licensed waste carriers to dispose of your unwanted goods or take them direct to a tip yourself."
Book a scrap metal collection online or call the Shared Waste Service on 0345 002 0022 (charged at the local rate).
To report fly-tipping, go to www.lichfielddc.gov.uk/report.