Residents and businesses asked for views on city centre improvement ideas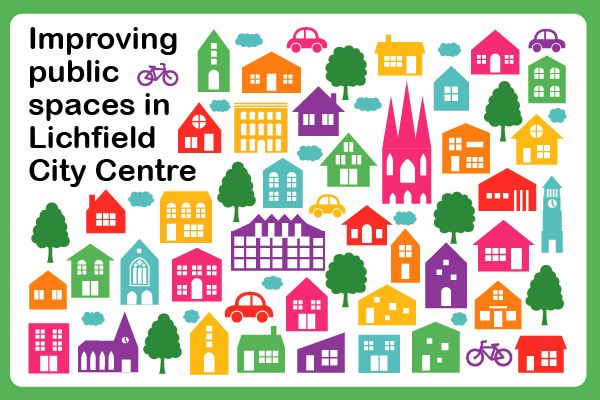 Public realm proposals to go under the spotlight.
We have a long-term vision for improving Lichfield city centre and are asking residents, businesses and visitors to Lichfield city centre for their thoughts on a set of new ideas for improving public spaces around the city centre area linking into work on pedestrianisation, improved car parking, sustainable infrastructure and development of the Birmingham Road site.
Our major projects team will be displaying the plans at the Nurture Nest Community Space (the old M&S unit) in Lichfield's Three Spires Shopping Centre between 9.30am and 4.30pm for two weeks from Monday 21 June to Friday 2 July and will be on hand between 12.30pm and 2.30pm on weekdays to discuss the plans and answer questions.
As part of the consultation, there will be opportunities to take part in 'Walk Shops' on Wednesday 23 June and Tuesday 29 June to visit and discuss areas of the city where improvement work will be focussed. We are also launching an online questionnaire for people to put forward their views.
Details about the Walk Shops and questionnaire are available on our Public Realm Strategy page.
Councillor Liz Little. Cabinet Member for Major Projects, said:
"This is an exciting opportunity for people to take a look at some of our emerging ideas for future improvements to Lichfield City Centre and I'm encouraging as many people as possible to get involved and let us know what they think.

"Our Public Realm Strategy is about making improvements to the public spaces in and around Lichfield city centre and building on the overall proposals set out in our Lichfield City Centre Masterplan.

"We want to cultivate distinctive, local solutions with the people who know the city best, so engagement with residents, businesses and visitors to Lichfield city centre is always going to be central to this project."
The public realm consultation is one of several pieces of work planned for 2021 to make progress on the Lichfield City Centre Masterplan which was published in 2020 to help shape the future growth of Lichfield city centre, set out opportunities for enhancing the quality of the city centre environment and provide a guide for future investment in Lichfield.