Da Gino Italian Restaurant embraces #LoveLocal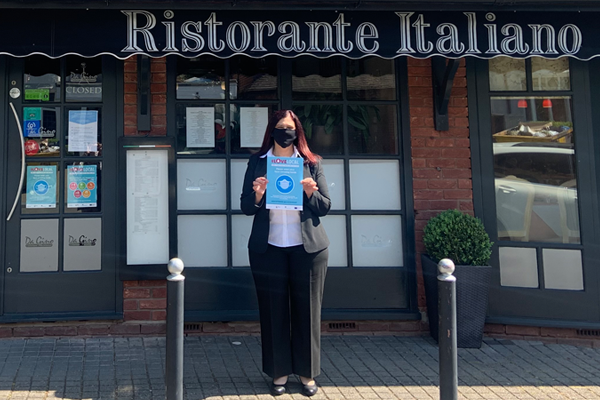 An Italian restaurant in Lichfield District is working hard to follow the Covid-secure guidelines since reopening after lockdown.
Da Gino is an Italian Restaurant on Burnett Road in Lichfield District that opened in 2009 and has been offering 'a bit of Italy' to diners ever since.
With the help of government grants and support from Lichfield District Council's Information Officer, a role funded by the European Regional Development Fund, Da Gino has reopened and is once again offering customers Italian dishes made with fresh market produce.
Anne Cozzi, Co-owner of Da Gino, said:
"I am so thankful to our loyal and respectful customers, many of whom visit at least once a week. They have never been just a number or a booking and we didn't want to lose that relationship.

"We're working hard to make the restaurant as safe a space as possible and the materials in the #LoveLocal packs have shown how serious we are about following the guidelines.

"We've found the face covering posters useful as when leaving the table it could be easy to forget to put a face covering back on, but the posters and test and trace app posters can be seen wherever you sit in the restaurant, which helps reinforce the message."
The team is celebrating having been awarded the top score of five for hygiene by Lichfield District Council's food safety team. And, customers have even commented on how well the staff are following the guidelines to keep everyone safe, which includes cleaning surfaces and door handles and making sure social distancing is taking place.
Of the support from the council, Anne added:
"Grants have been a real lifeline to the business. Every time I've phoned the district council they have been so helpful with advice and information."
Councillor Iain Eadie, Cabinet Member for Economic Development, said:
"We're really proud of the support we've been able to give businesses over what has been such a difficult year for so many.

"So far we've distributed more than £35.5 million in grants to businesses across the district, which has been a huge task. I'm really glad many of our valued retailers and hospitality businesses have been able to reopen and make our high streets the vibrant places we have missed so much.

"It's also really great to hear from Da Gino's about how hard they are working to follow the Covid-secure rules, keeping their customers and team as safe as they can be.

"While the grants have helped businesses like Da Gino to survive during Covid, what all our restaurants, cafes, bars and retailers need is people to come out and go and visit them. Going for a meal or a shopping trip at our local places is what is going to help them rebuild in the next year."