Warm welcome in Burntwood for Mikey Teas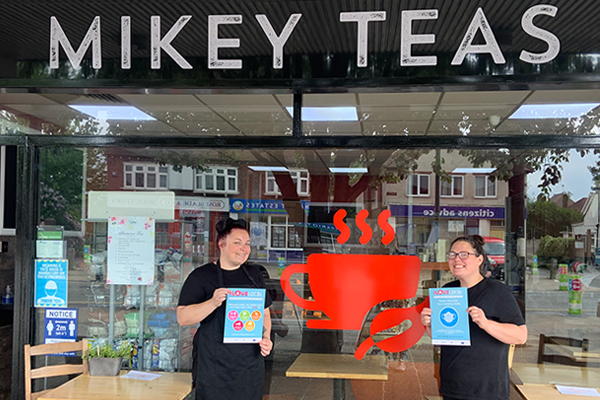 A Burntwood bakery feels welcomed by the local community and businesses since first opening up shop in December 2020.
Despite not having a background in hospitality and against a backdrop of the pandemic, Louise Taylor decided to go for it and opened Mikey Teas six months ago and is enjoying being a business owner.
Although the bakery could remain open over lockdown, as it offers a takeaway and delivery service, reduced footfall on the high street did affect trade and Louise is looking forward to Mikey Teas' first summer as more Covid-19 restrictions are lifted.
Louise Taylor, Owner of Mikey Teas, said:
"We're a close friend and family-run business, and the best part of opening has been getting to know the local community. Many customers walk in and staff will have a good chat with them while serving them.

"We offer breakfast and lunch menus, baked goods and create treats for different holidays, such as our recent Father's Day themed chocolate, and we're looking forward to the Sunday farmers' market and will be testing out opening on market days."
Of opening a business in Burntwood, Louise continued:
"What I love most about Sankey's Corner is that businesses in the area come together to help each other out, even for simple things such as providing the right change.

"We're offering staff from businesses based at Sankey's Corner special offers, such as all drinks at a set price to create a feeling of community."
Lichfield District Council's Information Officer, a role funded by the European Regional Development Fund, has visited Mikey Teas to offer advice and distribute #LoveLocal Covid-secure resources.
"Our customers have been really respectful of the guidelines - wearing face masks and social distancing. Please look out for our #LoveLocal posters and floor stickers in the shop," added Louise.
Councillor Iain Eadie, Cabinet Member for Economic Development, said:
"This has been quite a year to open a new business and I'm really pleased Mikey Teas has such a positive outlook. They are obviously settling in well to the community and have been welcomed by customers and other businesses alike with open arms. We wish the team the best of luck with the new business and hope to encourage more independent ventures to set up shop in the district."
Mikey Teas offers an independent delivery service, which can be ordered through its website.