New way to collect recycling agreed in principle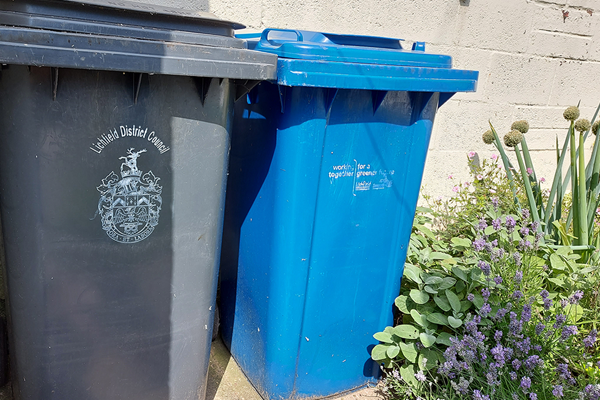 The changes will see more waste paper and card from across local homes recycled.
Lichfield District Council's Cabinet agreed the principle of switching from single-stream to dual-stream recycling when they met on Tuesday 6 July 2021.
Lichfield District Council works in partnership with Tamworth Borough Council, through the joint waste service, to deliver waste and recycling collections across the partnership area.
As the disposal contracts come to an end across Staffordshire, it is clear that co-mingled recycling collections no longer provides waste of sufficient quality to be economically reprocessed.
To improve the quality of the recycling the joint waste service collects, the proposed new system will see residents across both areas recycle their waste paper and card in a new reusable blue bag, or in some cases an extra bin. Glass, cans and plastics will continue to be recycled in blue bins.
The collection of dual-stream recycling involves increased costs, as it means collecting two containers from each household in new vehicles that separate the waste. Responsibility for collecting and disposing of waste is shared between Lichfield District Council, Tamworth Borough Council and Staffordshire County Council. As a result, Cabinet agreed any changes would depend on splitting the additional costs fairly with the county council.
Cabinet also announced that a member task group will be established to support the transition and oversee the changes to collections for residents.
Councillor Ashley Yeates, Lichfield District Council's Cabinet Member responsible for Recycling, said:
"I'm pleased we have agreed the principle of a move to dual-stream collections.

"Separating paper and card means much more of our waste will get recycled and the addition of a member task group will make sure residents are well supported in making this change.

"Stafford and Newcastle already collect their recycled waste in this way successfully and I know a number of other Staffordshire authorities are looking to make this switch. It's great that Lichfield and Tamworth are moving to this better recycling system that is a positive change for the future."
Tamworth Borough Council considered the proposals on Thursday 8 July and also agreed to them in principle.