Love Parks Week 2021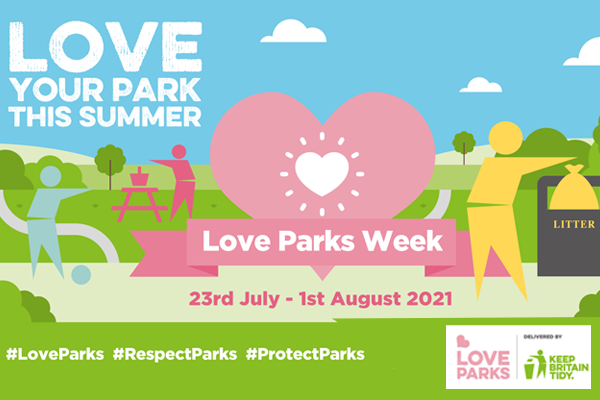 This year's Love Parks Week, which is running from 23 July to 1 August, asks everyone to love, respect and protect their local parks.
Keep Britain Tidy's Love Parks Week celebrates and showcases parks across the UK, while educating visitors on how to respect these much loved spaces.
Local parks and green spaces have been a vital lifeline during the past year's lockdowns. Around 9 in 10 people surveyed by Natural England in May 2020 agreed that natural spaces are good for mental health and wellbeing.
And yet, green spaces have been under immense pressure across the UK, with an extra 57 tonnes of litter collected during the first lockdown alone.
This is why Lichfield District Council is joining Love Parks Week in sending out a rallying cry to love, respect, and protect parks throughout the summer of 2021 and beyond.
This includes six simple steps to show respect for local parks and green spaces:
Be friendly and share the space
Respect those working in the park
If the bins are full take litter home and any recyclable items
Care for nature and do not cause damage or disturb wildlife
Keep your dog under control, and bag and bin dog poo – any bin will do
Only use BBQs if allowed and don't light fires
Councillor Iain Eadie, Cabinet Member responsible for Parks, said:
"We are really proud of our parks across the district and love seeing the joy they bring to our residents and visitors.

"To get involved this Love Parks Week, you can show some love by posting a photo of your local park on social media using the hashtag #LoveParks and tagging in Lichfield District Council.

"The week is also a chance to reset some behaviours to make sure our green spaces are pleasant environments for everyone, which includes keeping them free of litter and dog fouling and protecting wildlife."
Find out more about visiting Lichfield District parks.