Sign up for 2022 garden waste collections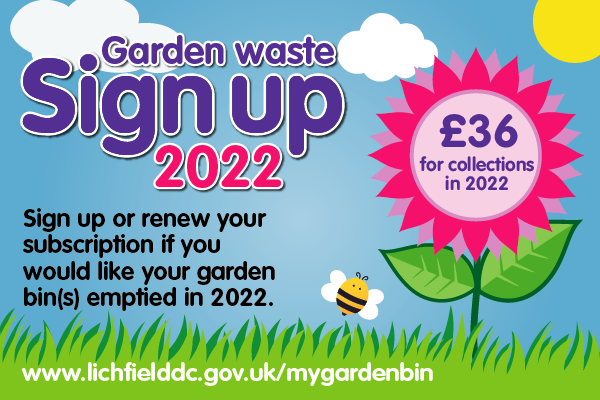 Green-fingered folk across Lichfield District are being encouraged to subscribe again for the garden waste service.
Online registration is now open for the garden waste service, and Lichfield District Council is urging local residents to sign up again to have their brown bins emptied in 2022.
The council has held 2021's price and it will cost £36 per brown bin for fortnightly collections in 2022. Next year's garden waste service will run from 31 January to 16 December and customers will receive a maximum of 23 collections.
Councillor Ashley Yeates, Cabinet Member for Climate Change & Recycling, said:
"Thank you to everyone who signed up to our garden waste service in the last year.

"We're now reminding all our residents that they will need to sign up again if they want their brown bins emptied in 2022.

"It costs the same regardless of when you register during the year, and your annual subscription will always end in December. This is why it makes sense to register before the first collection in 2022, so you can get a full year's worth of collections."
Sign up for the garden waste service online or call the Lichfield and Tamworth Shared Waste Service on 0345 002 0022.
"It is important to remember that your brown bin will not be emptied in 2022 unless you are signed up and have displayed your new sticker on your garden waste bin.

"We are also encouraging anyone who signs up not to cover up their 2021 sticker with their new one, so our crews know to continue to empty your garden waste bin for the rest of this year," added Cllr Yeates.