Cabinet to discuss Lichfield City Centre Masterplan progress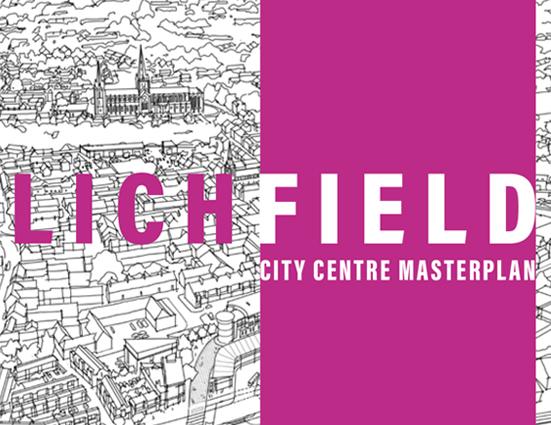 Plans outlined for improvements to car parking and public realm
At its meeting on 9 November, Lichfield District Council's Cabinet will discuss progress on the Lichfield City Centre Masterplan and, in particular, two major pieces of work on the future of Lichfield City Centre's car parking provision and opportunities to improve the look and feel of streets in and around the city centre. These proposals include improvements to signage, improved street furniture, paving and lighting alongside recommendations for new tree planting and new public art.
Car parking plans focus on improving the experience of car park users with new signage, payment systems and safety measures, while the public realm strategy offers a long-term approach to help guide the redevelopment over the coming years.
Councillor Doug Pullen, Leader of Lichfield District Council, said:
"These two strategies are key to a pleasant visit into Lichfield. While I'd much rather see people arriving by bike, train or foot - if a car is necessary then we want people to be able to easily find and pay for a space across the 17 car parks we manage in Lichfield. As a beautiful cathedral city, we also want to ensure future development is guided by an over-arching theme, so the public realm strategy will help us with that. When we took our initial ideas out to the public earlier on in the year we got some great feedback and these proposals give us the opportunity to continue those discussions.

"Getting the quality, consistency and condition of street surfaces, signs, bollards, cycle racks, bins and seating is important for maintaining a consistent and long-lasting identity that can be enjoyed by residents, city centre workers and visitors to Lichfield city centre.

"Priorities for our car parking strategy are making sure that we have the right quantity and quality of car parks that are easy to locate, access and are safe to use with a range of convenient payment options for users. We also want to support carbon reduction and air quality management by providing additional electric vehicle charging points.

"Alongside these important projects I will hopefully have more to say in December about the proposals for the Birmingham Road site that I want to be the springboard for discussion in the new year with residents and businesses on what the best solutions for the long-term success of the city centre look like".
The Lichfield City Centre Masterplan was published in 2020 to help shape the future growth of Lichfield city centre, set out opportunities for enhancing the quality of the city centre environment and provide a guide for future investment in Lichfield. Information on the car parking strategy and Masterplan are available on our city centre regeneration pages.
The cabinet meeting takes place at 6pm on Tuesday 9 November. A link to the live broadcast is available on our committee pages.