Tis the season to make a difference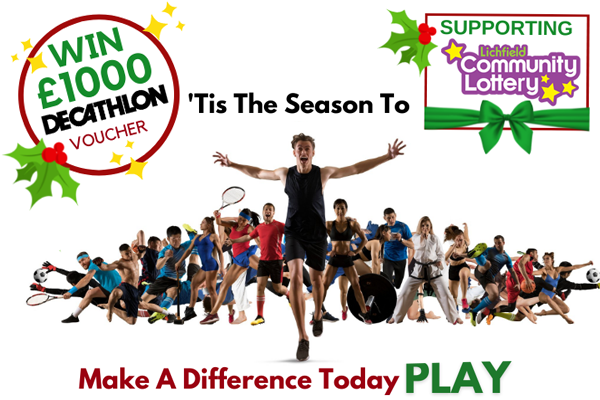 Play Lichfield Community Lottery in the lead up to Christmas and, on top of cash prizes, you could win £1,000 to spend in DECATHLON.  
Residents across Lichfield District are being urged to support their local community by signing up to Lichfield Community Lottery.
Not only do supporters have the chance of winning weekly cash prizes up to the £25,000 jackpot, if they enter before 1 January, they will be in with the chance of winning £1,000 of DECATHLON vouchers, all for £1 a week.
Equipment to play more than 70 outdoor and sporting activities as well as nutrition and body care products can all be found at DECATHLON.
Lichfield Community Lottery is a lottery for the people, by the people of Lichfield District. It's a fun way to help local good causes without giving up precious time. Tickets are £1 in the weekly draw where supporters get to choose which local group they would like their money to go to.
50% of each ticket is paid to the chosen good cause with an additional 10% going to further support causes in the local community.
Richard Cox, Lichfield District Council's Cabinet Member for Community Engagement, said:
"Sign up to Lichfield Community Lottery before Christmas, and you can go into the New Year knowing you are making a difference to a local good cause and be in with the chance of winning £1,000 to get active in 2022.

"Unlike larger lotteries, 60% of your ticket purchase comes back into your community and the odds of winning a prize are much better at 50 to 1. It really is a win-win, even if you don't win a prize you can be happy in the knowledge you are making a real difference to where we live."
Since its launch April 2021, Lichfield Community Lottery has raised more than £27,000 for local charities and 51 local groups have signed up so far.