Recycling contamination warning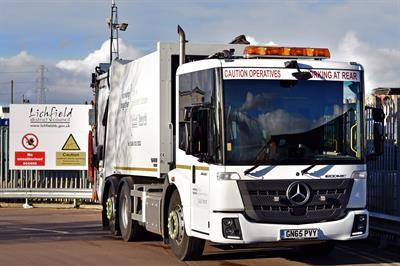 Lichfield District Council warns that blue bins will not be emptied if contaminated waste, including filled black bin liners, are put in recycling bins.
After five truck-loads of recycling was recently turned away from its sorting plant due to contaminated waste, Lichfield District Council is stepping up its checks on blue bin waste.
Recycling that hasn't been washed properly, waste that isn't recycling such as used nappies, and filled black bin bags, are just some of the things that have been finding their way into blue bins.
If a load of recycling is rejected, unfortunately it ends up being sent to landfill, which costs more, wastes other people's recycling efforts, and is bad for the environment.
The council will be putting stickers on bins to remind residents that they should only put loose recycling into their bins or, if they do want to bag it, to only use clear bags. This is because the recycling sorting plant does not accept waste in black bin bags.
Waste operatives will check blue bins before they are collected, and will not empty bins that have any contaminated waste in them.
Councillor David Leytham, Cabinet Member for Operational Services, Leisure & Waste, said:
"Our aim is to send as much of your waste to be recycled as possible. If loads of our recycling are turned away, it costs us money and is really disappointing as we know the majority of our residents work hard to recycle.

"We now need everyone to make sure they follow our guidance, which includes only putting recyclable items into your blue bins, making sure dirty items are rinsed out, and not putting recycling into black bin bags. By following these instructions, you won't find a note on your bin saying that we cannot empty it due to contamination. Thank you to everyone in advance for your help with this."
For more advice about what goes in which bin, please visit www.lichfielddc.gov.uk/bins.